Canadian Carbonless Driver's Vehicle Inspection Report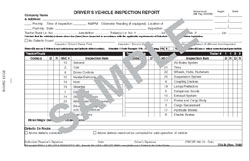 734-B
Meets Highway Traffic Act specifications. Canadian DVIR - for compliance with National Safety Code 1, 3, 5 Schedule.
Feature:
Canada's National Safety Code Standard 13 Schedule 1
Detailed DVIR helps drivers spot parts in need of repair
Offers detailed 23 inspection items
Book format
31 sets per book
Two plies
Carbonless
Measures 5-1/2" x 8-1/2"
Includes J. J. Keller's nine-point Vehicle Inspection Procedure - Walk around Sequence
Pricing and Ordering
Product Code
# of Plies
Carbon
Size
Pricing
Quantity
Order Now!
12915/734-B English Only | PDF Sample
2
No
5-1/2" x 8-1/2"
Imprinted 12675 / 734-B-C Canada | PDF Sample
2
No
5-1/2" x 8-1/2"

Back to Top
Vehicle Inspection and Maintenance Page | Canadian
Highly Recommended
Track Your Order
Convenience Goods
Must-Haves!