Confidential All In One Driver Qualification File Packet Snap-Out 740-F-P/740-F-P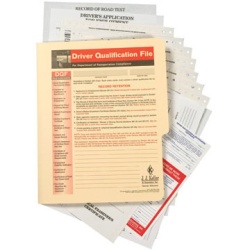 740-F-P/740-F-P
View PDF Sample
Back Order - No Expected Date
This Confidential All In One Driver Qualification File Packet Snap-Out 740-F-P contains the following forms:
Allows you to keep alcohol and drug forms, safety performance history forms and driver qualification forms secure and in one convenient location
Includes a 9 1/2" W x 11 3/4" L tabbed file folder and the following forms:

Driver Qualification File Contents Sheet
Checklist for Driver Qualification Forms
Application for Employment
Request For Check Of Driving Record
Fair Credit Reporting Act Disclosure Statement
Medical Examination Report
Medical Examination Certificate
Record and Certificate of Road Test
Record Of Violations/Annual Review Certificate
Certificate Of Compliance
Driver Statement Of On-Duty Hours-New Hire
Certification Of Road Test Pocket Card
Driver Qualification and ID Certificate
Employment Eligibility Verification I-9
Alcohol & Drug Records Request
Alcohol And/Or Controlled Substance Test Notification
Drug Test Results
Observed Behavior Reasonable Suspicion Record
U.S. DOT Alcohol Testing Form
Federal Drug Testing Custody And Control Form
Previous Employee Safety Performance History
Previous Pre-Employment Alcohol & Drug Test Statement
Safety Peformance History Records Request
Alcohol & Drug Recordkeeping Log
Alcohol & Drug Employee's Certified Receipt
Pricing and Ordering
3-9
10-24
25-49
50-99
100-199
200 or more
For more price info
Quantity
Order Now!
$ 22.08 each
$ 16.56 each
$ 15.58 each
$ 13.95 each
$ 11.53 each
$ 10.59 each
Contact Us

Back Order - No Expected Date
Note: All forms are single copy except where noted: (2) = 2 copies, (3) = 3 copies.
| | | |
| --- | --- | --- |
| Form Format Key | | |
| A » 2-Ply, Snap-out, Carbonless | | F » 4-Ply, Snap-out, Carbonless |
| B » 2-Ply, Snap-out, with Carbon | | G » 5-Ply, Continuous pinfeed, Carbonless |
| C » 2-Ply, Individual sheets | | H » 1 Individual sheet |
| D » 3-Ply, Snap-out, Carbonless | | I » 4-Page Format |
| E » 3-Ply, Snap-out, with Carbon | | J » 8-Page Format |
Highly Recommended