Aluminum Log Book and Carbonless Form Holder 572-R
With Clipboard Cover and Writing Plate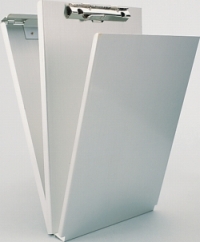 572-R
Aluminum Log Book and Carbonless Form Holder 572-R holder has a handy storage compartment with a clipboard-cover, plus an additional writing plate which folds down over the unit. By clipping a standard 5 1/2" W x 8 1/2" L log book onto the cover and positioning the writing plate underneath the desired number of plies, you can fill out a log book page without it copying over onto the next ply. Anti-microbial finish. Made from recycled aluminum.
Specifications
Size:

6 1/16" W x 9 13/16" L x 1 1/8" Deep

Excellent For (Log Book Size) :

5 1/2" W x 8 1/2" L

Material:

Recycled Aluminum
Features
Storage Compartment
Clipboard-cover
Writing plate
Anti-Microbial finish
Pricing and Ordering
5-9
10-24
25-49
50-99
100-249
250-499
More Orders
Quantity
Order Now!
$ 24.14 each
$ 22.24 each
$ 20.95 each
$ 19.40 each
$ 17.81 each
$ 16.38 each
Contact Us

Back to Top
Log Binders, Covers, Holders & Envelopes
Log Books Main Page
Log Books Comparative Matrix
Highly Recommended
Track Your Order
Convenience Goods
Must-Haves!