Vinyl Compact Document Holder 3525/568-RVN-BL
Blue Vinyl, 36 Documents in 18 Pockets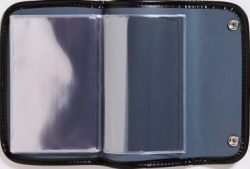 3525/568-RVN-BL
Vinyl Compact Document Holder 568-RVN-BL - A convenient document holder that can also be used to store credit cards, phone lists, index cards, or photos. It has 18 clear pockets that enables the user to quickly identify and access needed contents. Outside cover is made of durable vinyl.
Specifications
Color:

Blue

Holder Size:

6" W x 8" L when snapped shut.

Pocket Size:

4" W x 6" L

Material:

Vinyl
Features
Pricing and Ordering
6-9
10-24
25-49
50-99
100-249
250 or More
For more price info
Quantity
Order Now!
$ 10.16 each
$ 9.61 each
$ 8.64 each
$ 8.26 each
$ 7.86 each
$ 7.55 each
Contact Us

Back to Top
Document Holders
Log Binders, Covers, Holders & Envelopes
Log Books Main Page
Log Books Comparative Matrix
Highly Recommended
Track Your Order
Convenience Goods
Must-Haves!