NOTE: We are having a massive price update. The cart is already updated but the website update is still going on. Thank you for your cooperation.
PLEASE NOTE: In addition to the product ID change, this logbook format has changed slightly due to updated FMCSA IFTA Reporting Requirements. Both "Shipments on Truck" and "Shipments Unloaded Today" where reduced to 2 lines each.
5 in 1 Driver's Daily Logs 8556/708-L
3-Ply Carbonless With Detailed DVIR With Recap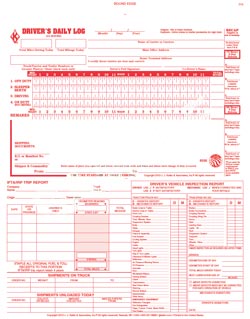 Imprint for this log book is available here.
This 5 in 1 Driver's Daily Logs 708-L is a Carbonless 3-Ply Book Format log book that has a Detailed Driver's Vehicle Inspection Report (DVIR). This log can also be used for compliance with DOT's Hours of Service Rule.
This log book also has a recap to help your drivers quickly determine hours available, a monthly summary sheet with instructions for the 34-hour restart provision, and a summary of DOT's Driver's record of duty status regulations to help simplify compliance.
Carbonless
Detailed DVIR
Recap
3-Ply
Book Format
31 sets per book
Monthly Summary Sheet
Overall Size: 8 1/2"W x 11"L
The handy 5-in-one logs save time effort by including the features below all in one document
Driver's Daily Log
Detailed DVIR
"Shipments on truck" record
"Shipments unloaded" record
"Miles driven by state" record
The log book also has the following features:
Total Mileage Today box
Home Terminal Address line
"From" line
"To" line
10-99
100-199
200-299
300-499
500-999
1,000 or more
For more price info
Quantity
Order Now!
$ 10.20 each
$ 9.62 each
$ 8.97 each
$ 8.33 each
$ 7.37 each
$ 6.07 each
Contact Us
Back to Top
5 in 1 Driver's Daily Logs
Go Back To Driver's Daily Logs Main Page
Log Books Main Page
Log Books Comparative Matrix
Also Available...
Highly Recommended