NOTE: We are having a massive price update. The cart is already updated but the website update is still going on. Thank you for your cooperation.
Daily Log Instruction Books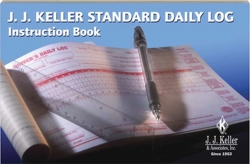 Click to enlarge
Our Daily Log Instruction Books explain the regulations in basic terms and help new and experienced drivers alike understand what's required to log accurately. They also make a great reference tool for whomever handles log auditing duties at your company.
Books show how to complete a Driver's daily log, with examples of log pages, plus sample pages of other logs available from J. J. Keller. Hints and reminders help explain the logging process. Separate versions available for standard daily (600-F-I) and KellerSCAN® (900-F-I) logs.
Back to Top
Go Back To Log Book Companions Main Page
Log Books Main Page
Log Books Comparative Matrix
Also Available...
Highly Recommended