Note: We are having a massive price update. The cart prices are already updated but the website update is still going on. Thank you for your understanding.
Driver Training Log Book 8591/693-L
Contains additional log pages for completing training exercises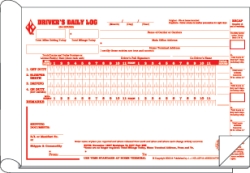 Click to enlarge Driver Training Log Book
The Driver Training Log Book 693-L A driver training form with a Driver's daily log on the front and a Student Evaluation Report on the back. This practical, training tool has space to record evaluation of attitude, general progress, punctuality, attention to safety, log preparation, and driving techniques.
Designed for use with the Hours of Service: A Driver's Guide, Second Edition training program
Includes EZ explanations on the back cover to help drivers understand Hours of Service regulations and how to properly fill out the log page
Includes easy-to-use recap to help minimize mistakes
Includes student evaluation report on back cover for instructors to evaluate student progress
Measures 5-1/2" W x 8-1/2"L
5 1/2" x 8 1/2"
31 Sets
2-Ply
with Carbons
Book format
24-99
100-199
200-299
300-499
500-999
1,000 and more
For more price info
Quantity
Order Now!
$ 3.05 each
$ 2.63 each
$ 2.39 each
$ 2.29 each
$ 1.93 each
$ 1.63 each
Contact Us
Back to Top
Go Back To Log Book Companions Main Page
Log Books Main Page
Log Books Comparative Matrix
Also Available...
Highly Recommended