Driver Training Log Book 8591/693-L
Contains additional log pages for completing training exercises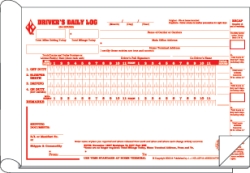 8591/693-L
The Driver Training Log Book 693-L A driver training form with a Driver's daily log on the front and a Student Evaluation Report on the back. This practical, training tool has space to record evaluation of attitude, general progress, punctuality, attention to safety, log preparation, and driving techniques.
Designed for use with the Hours of Service: A Driver's Guide, Second Edition training program
Includes EZ explanations on the back cover to help drivers understand Hours of Service regulations and how to properly fill out the log page
Includes easy-to-use recap to help minimize mistakes
Includes student evaluation report on back cover for instructors to evaluate student progress
Measures 5-1/2" W x 8-1/2"L
Specifications
5 1/2" x 8 1/2"
31 Sets
2-Ply
with Carbons
Book format
Pricing and Ordering
Highly Recommended
Track Your Order
Convenience Goods
Must-Haves!