Monthly Log Summary Fold-Up Laminated Charts 608-FW-L
Fold-up for Portability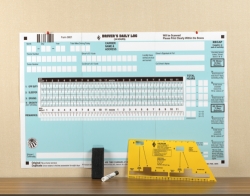 608-FW-L
The Monthly Log Summary Fold-Up Laminated Charts 608-FW-L is designed for maximum portability. Its design makes it easy to carry from place to place, anywhere it is needed.
It is made of laminated paper with four eyelets for temporary mounting.
It comes with a free marker, eraser, oversized log ruler, and a resealable bag.
Specifications
36"W x 24"L
Made of Laminated paper
Features
Includes the following:
marker
eraser
oversized log ruler
reseasable bag
Pricing and Ordering
1-5 charts
6 or more charts
Quantity
Order Now!
$ 53.88 each
$ 45.32 each

Back to Top
Go Back To Log Book Companions Main Page
Log Books Main Page
Log Books Comparative Matrix
Highly Recommended
Track Your Order
Convenience Goods
Must-Haves!