Monthly Log Summary Sheet 8682/608-F
For Simplified Monthly Logging Records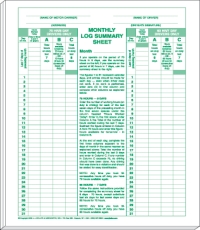 Click to enlarge Monthly Log Summary Sheet
The Monthly Log Summary Sheet 8682/608-F log summary sheet contains simplified monthly logging records with instructions on how to complete the sheet. Each sheet includes space for summaries for either a 7- or 8-day work week.
Size: 8 1/2"W x 11"L
Padded format
50 sheet per pad
Simplified logging records
Space for 7-day or 8-day work week
Instructions
6 - 11
12 or more
For more price info
Quantity
Order Now!
$ 9.77 each
$ 5.16 each
Contact Us
Back to Top
Go Back To Log Book Companions Main Page
Log Books Main Page
Log Books Comparative Matrix
Also Available...
Highly Recommended