NOTE: We are having a massive price update. The cart is already updated but the website update is still going on. Thank you for your cooperation.
Loose-Leaf Forms Binders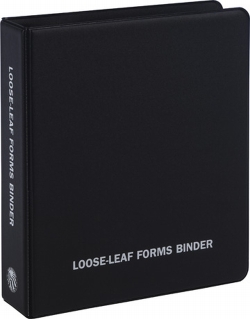 Click to enlarge
These loose-leaf forms binders come in three different sizes to keep important forms and supplies neatly stored.
Sturdy, rigid vinyl with white lettering
Inside front cover includes 4" deep clear pocket.

709-ER

and

716-R

have additional 4" pockets on spine and back
1" ring capacity allows drivers to organize 3-hole punched copies of completed forms
Rigid cover provides a hard surface for writing
Full-size sheet divider prevents image transfer to forms below
Identification card in front pocket can be filled out with company and emergency contact information.
The size refers to the measurement of the binder when closed.
Product Code
Color
Size
Best For (Form Size)
Pricing
Quantity
Order Now!
3788/705-R
Black
8"W x 9"L
8 1/2"W x 6 1/2"L
11730/709-R
Black
9 1/2"W x 10 1/4"L
8 1/2"W x 8 7/8"L
11731/716-R
Black
10"W x 11 5/8"L
8 1/2"W x 11"L

Back to Top
Log Binders, Covers, Holders Main Page
Log Books Main Page
Log Books Matrix
Also Available...
Highly Recommended