NOTE: We are having a massive price update. The cart is already updated but the website update is still going on. Thank you for your cooperation.
Driver's Daily Journal 881/23-B
3 Forms in 1 2-Ply With Carbon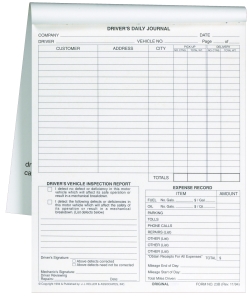 Click to enlarge | PDF Sample
This Driver's Daily Journal 23-B is a 2-Ply Book Format with Carbon that can help you comply with the Hours of Service rule time-efficiently with its "3 forms in 1" feature. The Driver's Daily Journal combines the Manifest Record, Driver's Expense Record and Vehicle Inspection Report into one convenient form.
2-Ply
with Carbon
31 sets
Book Format
Overall Size: 8 1/2"W x 11"L
3 forms in 1 convenient form:
Manifest record
Driver's expense record
Vehicle inspection record
12-99
100-249
250-499
500-999
1,000-2,499
2,500 or more
For more price info
Quantity
Order Now!
$ 5.42 each
$ 4.45 each
$ 3.78 each
$ 3.27 each
$ 2.94 each
$ 2.78 each
Contact Us
Back to Top
Specialized Log Books Main Page
Log Books Main Page
Log Books Comparative Matrix
Also Available...
Highly Recommended