NOTE: We are having a massive price update. The cart is already updated but the website update is still going on. Thank you for your cooperation.
Seven-Day Driver's Log Book 8585/671-L
4-Ply With Carbon With Detachable Simplified DVIR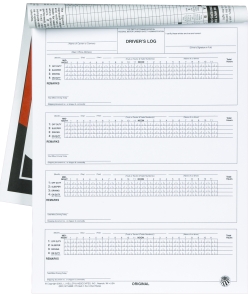 Click to enlarge Seven-Day Driver's Log Book 671-L | PDF Sample
This Seven-Day Driver's Log Book 671-L is a 4-Ply Book Format that can help you comply with the Hours of Service rule and with vehicle inspection regulations. Plies one and two have 4 logs printed on the front side and 3 on the back. The 3rd and 4th plies have 4 Simplified DVIRs, perforated for easy removal.
4-Ply
with Carbon
17 Sets
Book Format
Overall Size: 8 1/2"W x 11"L
Detachable Simplified DVIR on 3rd and 4th plies
Monthly Log Summary Sheet
Completion Instructions
12-99
100-199
200-299
300-499
500-999
1,000 or more
For more price info
Quantity
Order Now!
$ 6.77 each
$ 5.67 each
$ 5.08 each
$ 4.68 each
$ 3.86 each
$ 3.11 each
Contact Us
Back to Top
Specialized Log Books Main Page
Log Books Main Page
Log Books Comparative Matrix
Also Available...
Highly Recommended