50 Quart ARB 12/24 DC & 120v AC Volt Fridge Freezer - 10800472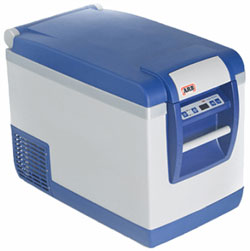 10800472
A 50 quart capacity that can store a large upright bottles. Suitable for medium to large SUV and pick-ups perfect for traveling.
Capacity: 50 Quart
Power Consumption: 1.35 Amps
Digital Temperature Display
Solar Panel & Generator Compatible
Internal LED Light
Integrated Evaporator
Durable Case
Highest Quality SECOP compressor
Drain Plug
Recessed Handles
Warranty: 3 Years
Capacity: Holds 72 - 12 oz. cans - (50 Quarts/47 Liters)
Power Consumption: 8.4 to 27.6 Watts ( 0.7 to 2.3 Amp Hr.)
Dimension:

Outside: 20"H x 15"W x 27.8"D (508mm x 380mm x 705mm)
Inside Dimensions:

Main Compartment: 15.8"H x 11.2"W x 13.3"D (401mm x 285mm x 337mm)
Dairy/Fruit Compartment: 8.1"H x 11.2"W x 6"D (206mm x 285mm x 151mm)

Weight: 49.6 lbs./22.5kg.
Recessed Powdered Coated Steel Fixed Carry Handles
Internal Cabinet LED Light
Interior Drain Plug
Integrated Battery Protection System (12/24V DC)
On/Off Convenient Power Indicator
User Friendly
Deep Storage Capacity
Rounded Corners and Edges
Forward Facing Thermostat Control
Easy Access & Cleaing
Fully Removable LID and Basket
Right Angled Plug-In Point from Cord to Fridge
Ventilation Grills
Built-In 12, 24, and 120 Volt Facility
Operates at Extreme Angles (Up to 30°) w/out Affecting Operation or Reliability
Average DC Power Consumption: 0.7 to 2.3 Amp/Hr
Ideal for Use As A Second Fridge
50 Quart ARB Fridge Freezer
Reversible Basket
Removable Basket Divider
100-240 AC Volt Power Cord
12/24 DC Volt Power Cord
Operating and Service Guide
Warranty and Service Booklet

Back to Top
12-Volt Fridge Freezers & Accessories
Back to Truck Products
Highly Recommended