ARB Zero Fridge Freezer 101 Quart Dual Zone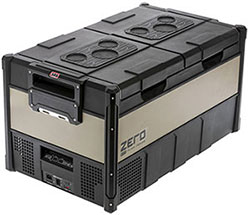 10802962
The perfect addition to your car, camper trailer or caravan. The 101 Quart Dual Zone Zero Fridge Freezer keeps your cans cold and meals frozen. It comes with quick release lid to swap openings, and front and rear DC inlets.
It comes with two compartment sizes (43.3qt & 58.1qt). The compartment divider is removable allowing you to convert into a single zone fridge/freezer.
Perfect for Family Trips
Two Compartment Size:
Capacity: Holds 144 x 375ml Cans
Wireless Control via Bluetooth
Dual Lids & Fixed Compartments
Controlled Cooling Zones
Tough, Durable Steel Outer Casing
Capacity: Holds (144 x 375ml cans)
Power Consumption: 12/24V DC / 100 240V AC (Integrated Battery Protection System)
Cooling Capacity: -7.6°F to +50°F
Current Draw: 0.8Ah (DC12V set at 5 C, 32 C Ambient Temperature)
Transmitting Module: Bluetooth connectivity allows 2-way communication on your mobile device
Dimension:

External: 36.8"L x 21.6"W x 20"H
Internal:

Upper Compartment: 14"L x 15.9"W x 8.2"H
Lower Compartment: 6.9"L x 15.9"W x 7.1"H
Rear Zone: 13.9"L x 15.9"W x 15.3"H

Weight: 80.7 lbs.
Warranty: 3 Years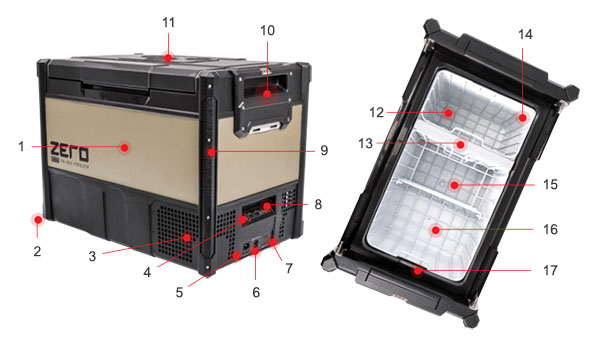 Tough, durable steel outer casing.
Wireless monitoring & control via compatible Bluetooth-enabled devices.
Highly efficient, variable speed compressor.
Boost function for rapid cool down.
Front AC power inlet for quick home or powered site connection.
Dual DC power inlet located at opposite ends of the fridge for customized installations.
Convenient USB 5V, 3,000mA outlet for charging phones & USB powered devices.
Easy view LED display.
Full-height corner moldings for added protection.
Recessed carry handles with integrated tie-down points.
Quick-release side opening reversible lid with non-slip glass/bottle provision. 73qt - Single lid with a secondary internal compartment lid 101qt - Individual compartment lids
The 73qt model offers dual compartments separated by an internal lid
Dual independently controlled cooling zones. 101qt - Fixed compartments (pictured above) 73qt - Features a removable compartment divider (white), remove to create a single zone fridge or freezer and pick up 4qt of space
Anti-condensation technology.
Convenient drain plug for simple cleaning.
Versatile, removable internal basket system with provision for tall items/bottles.
Low power draw LED interior light.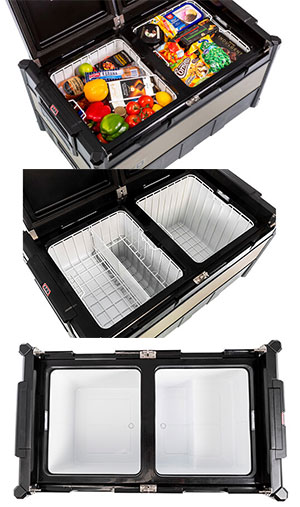 Can the ARB fridge freezer be powered by a solar panel system?

Yes, ARB Fridge Freezers have been tested with name brand solar panel systems. Please contact the solar panel system manufacturer for a recommended system.

How many amps does the ARB fridge freezer draw?

Amp draw depends on how often the compressor needs to run to maintain the set temperature. This will be determined by the ambient temperature, how often the fridge door is open, and the contents of the fridge. During optimal conditions, the ARB Fridge Freezer will draw under 1.5A to maintain the set temperature

Is the ARB fridge freezer rechargeable or does it need to be plugged in to operate?

All ARB Fridge Freezers require a constant supply of 12v, 24v, or 110v to operate.

Why does my fridge only work on 120v and not when it's plugged into my car's 12v?

Most power outlets on newer vehicles do not offer a full 12.6 volt when off due to improper wiring gauge for the application. ARB Fridge Freezers use a low voltage cutoff that prevents the fridge from running if it detects a low voltage. This feature ensures the fridge freezer will prevent your starting battery from going completely flat. If your vehicle wiring is not adequate, ARB offers a stand-alone wiring harness (10900027) that is compatible with all ARB Fridge Freezers.

Back to Top
12-Volt Fridge Freezers & Accessories
Back to Truck Products
Highly Recommended