Elite Pack - Elite Outdoor & GoAC Indoor WiFi Router - 11-ELITEPACK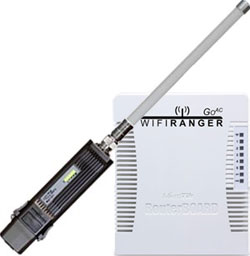 ELITEPACK
Bundled together to bring you an indoor WiFi Router with LAN and USB Accessibility. The Elite Pack combines WiFi and Cellular Internet Sources through the Indoor GoAC Router which uses the Elite for connecting to long range WiFi.
The GoAC provides a secure WiFi network along with USB tethering to 3G/4G Aircards or MiFi devices on the otherhand the Elite brings in distant WiFi at up to 2 miles.
What You Should Know About Mobile WiFi
Note: Max Range reflects optimal conditions with clear line of sight and powerful access points and is not to be expected as the usual range achieved.
Vibration Resistant
Outdoor & Indoor WiFi Router
GoAC Indoor Wifi Router:

Provides Secure WiFi Network
6 Antennas: Triple-Chain for both 2.4 and 5.8GHz
USB tethering to 3G/4G Aircards

Elite Outdoor Wifi Router:

Waterproof & UV-Resistant
Pole Mounting
Receiving WiFi up to 2 miles away

Warranty: 3 Years
Other Features of 11-ELITEPACK:
Affordable & Compact System
Outdoor Range & Indoor Accessibility
Performance & Ultimate Range
Clean & Simple Installation
Wifi Standards: 802.11 b / g / n / ac (2.4 / 5.8GHz)
2.4GHz Antennas: Single-chain 6dBi
5.8GHz Antennas: Single-chain 6dBi
Max Radio Power: 1000 mW (auto adjusts)
Max Range*: 2mi
CPU Speed: 720MHz
Memory: 64MB
Weather Proofing: IP67 Outdoor-rated
Mounting: Ladder / Batwing / Flagpole (hose clamps included)
Antenna Polarity: Vertical Polarized (upright for proper operation)
Power Method: 24V POE Input from GoAC (port 5)
LAN Ports: 1x Gigabit Ethernet (reserved for power)
Dimensions: 19" x 2.5" x 1.5"
Weight: 0.87 lbs.
Max Power Consumption: 11W
Operating Temperature: -40° to 70° C
Wifi Standards: 802.11 b / g / n / ac (2.4 / 5.8GHz)
2.4GHz Antennas: Triple-chain 2.5dBi
5.8GHz Antennas: Triple-chain 2dBi
Max Radio Power: 800 mW (auto adjusts)
Max Range*: 750ft
CPU Speed: 720MHz
Memory: 128MB
Weather Proofing: Indoor-only
Mounting: 2-screw Inserts
Antenna Polarity: 360° (any orientation for proper operation)
Power Method: 12V DC or 110V AC (12-24V DC Input)
LAN Ports: 5x Gigabit Ethernet
USB Port: 1x USB 2.0
Dimensions: 4.5 x 5.4 x 1 in
Weight: 0.56 lbs.
Max Power Consumption: 17W
Operating Temperature: -20° to 60° C
Includes
Elite Outside Pole Router
GoAC Inside Network Router
30FT Ethernet Cable
110VAC Power Adapter
12V Wire Harness
Installation Kit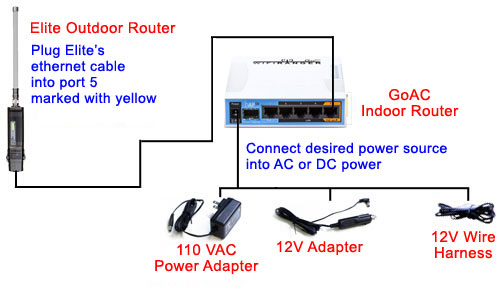 Back to Top
Mobile Wifi Solutions
Back to Training
Highly Recommended