Engel MT45 43 Quart 12 Volt AC/DC Fridge-Freezer MT45F-U1
Engel Medium ACDC Refrigerator Freezer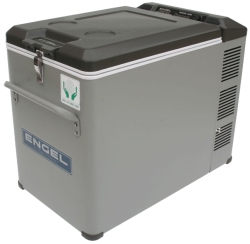 MT45F-U1
The Engel Model MT45 12-Volt Freezer Fridge is our most popular Engel model and like all Engel Fridge-Freezers can operate on both 12-Volt DC battery power or 120 Volt AC Household Power. Engel AC/DC Fridge-Freezer's are built tough for even the harshest conditions
An ideal 12-Volt Freezer for long term freezing. Capable of holding a steady temperature in Refrigerator mode.
The MT45 easily works off solar power and only draws 2.7 Amps. Engel's 43 Quart 12-Volt Refrigerator Freezer is powered by the latest generation of compressor technology and is capable of making ice or keeping ice-cream frozen.
Fishermen - freezing fish or keeping bait frozen
Truckers - for cooling refreshments
Boaters - for making ice cubes
Reps on the road - for frozen product samples
Campers - keep food frozen or beers chilled
Fire/EMS Departments - refreeze cool vests and store on-scene rehab liquids
Remote Cabins - works well off wind and solar generator
Biologists - for blast freezing test samples in the field
As you probably know, Florida has a law that Requires Vendors who ship to Florida Residences, to charge the Dealer the 6 1/2% Florida Sales Tax. Please OK, this addition Florida Tax in "Customer MSG" box, so as not to hold up your order. See Florida Law Rule 12A-1.091(10) Use Tax.
Power Consumption : 0.7 - 2.5 Amps (10 Amp External Fuse)
Freezing Ability : From 40°F to 0°F
Capacity : Holds 60 - 12 oz cans (2 1/2 Cases, 43 Qts/40.7 L)
Outside Dims : 25.5" x 14.3" x 20"
Inside Dims : Inside 15.4" x 10.8" x 16.4"
Weight : 52.9 lbs
Includes both 12-Volt and 120 Volt Cords(Run your Engel from Vehicle or Household Current)
Temp. Control : Variable
Refrigerant Gas : CFC free - 134A
Available Colors : Gray
Max Noise : 38dB
Power Leads : 9' Detachable Power Cord
Carry Handles : Yes
Input Rating : DC12V - 2.5A; AC 110V - 0.7A
Shipping Weight : 66 lbs.
Fuse : 10A external fuse
Warranty : 2 Year Warranty
Inside View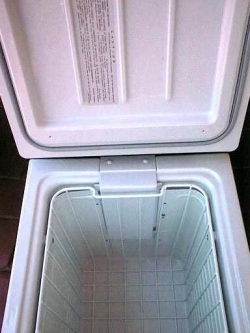 Close Up View - Controls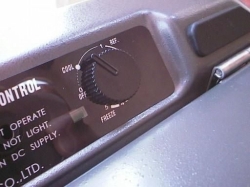 Rear View

Back to Top
12-Volt Fridge Freezers & Accessories
Back to Truck Products
Highly Recommended