Everest/Aspen High Performance Mobile WiFi Combo
FREE SHIPPING
Available November 4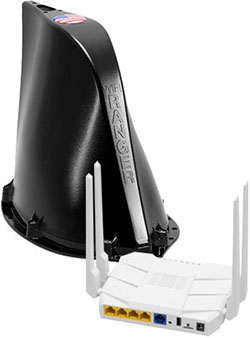 11-11EV-AS-A6-30-B-GN
Looking for a router that can reach it's peak performance? Get the Everest/Aspen combo so you can enjoy fast and reliable internet connection. The Everest/Aspen pack is versatile and it comes with LTE connectivity. With the help of integrated high-performance LTE modem of outdoor router, LTE speeds and seamless data sharing are improved.
This pack is ideal for mobile lifestyle and a great addition to your Truck, RV, or Boat as you can stay online wherever you go. With the Everest 2 mile maximum wireless range, you can get wifi access in places that you could never get before.
What You Should Know About Mobile WiFi
Note: Max Range reflects optimal conditions with clear line of sight and powerful access points and is not to be expected as the usual range achieved.
Indoor & Outdoor High-performance WiFi Router
For Peak Performance, Versatility, & LTE Connectivity
Downlink: Up to 300Mbps | Uplink: Up to 50Mbps
Ideal for Your Truck & RV
2 Miles Maximum Wireless Range
Specifications of Everest/Aspen Pack:
Supports: AT&T and Millenicom Sim Cards
WiFi Frequencies

Outdoor Unit – 2.4GHZ
Indoor Unit – 2.4 & 5.8GHz

Range:

Outdoor Unit – Up To 2 Miles Capture, 1/4 Mile Broadcast
Indoor Unit – Up To 750 Ft

Throughput:

WiFi – Up To 1200Mbps
LAN – UP TO 1000Mbps
LTE (if equipped) 150Mbps Down, 50Mbps Up

Standards: 802.11 A/AC/B/G/N
Broadcasts: 3X (PRIVATE, PUBLIC, OEM MGT)
Security: SafeSurf™/Firewall/WPA3
Form Factor:

Outdoor Unit: Shark Fin
Indoor Unit: Compact Modem

SD Card Slot: MicroSD
Warranty: 2 Years
Lan Ports:

Outdoor Units – 1X LAN
Indoor Unit – 4X LAN, 1X WAN

Dimensions:

Outdoor Unit – 9"T X 7"W X 11"D
Indoor Unit – 7"T X 7.5"W X 5"W
Pack: 18" × 12" × 9"

Everest Temperatures:

Outdoor Unit: -40C ~ +70C
Indoor Unit: -0C ~ +40C

USB Port for Hotspots:

Outdoor Unit: NO (Requires Indoor Router)
Indoor Unit: YES (USB 3.0)

30 ft. Tetherpoint Cable
Power Input / Draw: 12VDC / 36W Maximum
LTE MODEM

Outdoor Unit: Category 6 Modem
Indoor Unit: None

LTE Modem Slots: 1 (Indoor Unit), 2 (Outdoor Unit)
GPS (When LTE is Activated)
Tray Swap Upgrades: No (Best in Class)
Includes
Everest Outdoor Router
Aspen Indoor Router
30ft TetherPoint Cable
Power Adapter: DC Direct Pigtail with 5amp in-line fuse
User Manual
Sim Card
12vDC/24vDC Power Supply
WiFiRanger Converge 2020 Outdoor Models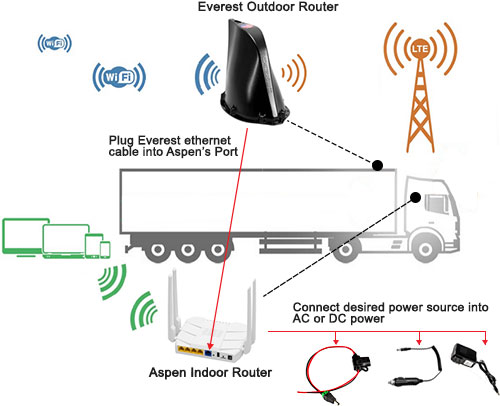 Back to Top
Mobile Wifi Solutions
Back to Training
Highly Recommended