SkyProPack - SkyPro Outdoor and Core Indoor WiFi Router
SKYPROPACK
The Skypro is a complete network with indoor accessibility and outdoor range. It is also is equipped with a Flex-guard antennas that can bend down to 5" clearance without doing damage to the unit, protecting against trees and other overhangs.
The SkyPro is designed for mounting to the roof of your Truck or RV. It gives you a much faster throughput at 2.4 Ghz. It also ranges up to 1 1/2 miles of wireless connectivity.
The 30 feet Ethernet cable needs to run to the inside of the RV or Truck and plug it into the Core's 110V AC POE Power Supply port.
What You Should Know About Mobile WiFi
Secure & Private Network
Dual Chain Antenna for Faster WiFi
Long Range Connectivity
SkyPro is equipped w/ a Flex-guardTM antennas
Waterproof & UV-resistant
Max Range: 1 /2 miles
Resistant to Vibration
Warranty: 1 Year
Note: Max Range reflects optimal conditions with clear line of sight and powerful access points and is not to be expected as the usual range achieved.
Wifi Standards: 802.11 b / g / n (2.4GHz)
2.4GHz Antennas: Dual-chain 5dBi
Max Radio Power: 1000 mW (auto adjusts)
Max Range*: 1.5mi
CPU Speed: 600MHz
Memory: 64MB
Weather Proofing: IP67 Outdoor-rated
Mounting: Flat Surface (adhere using high-grade adhesive of choice)
Antenna Polarity: Vertical Polarized (upright for proper operation)
Power Method: 24V POE Input from Core (port 5)
LAN Ports: 1x Gigabit Ethernet (reserved for power)
Dimensions: 9.7" x 7.5" x 4.5"
Weight: 0.93 lbs. (excluding cable)
Max Power Consumption: 10W
Operating Temperature: -40° to 70° C
Wifi Standards: 802.11 b / g / n / ac (2.4 / 5.8GHz)
2.4GHz Antennas: Dual-chain 1.5dBi
5.8GHz Antennas: Single-chain 2dBi
Max Radio Power: 200 mW
Max Range*: 250ft
CPU Speed: 650MHz
Memory: 64MB
Weather Proofing: Indoor-only
Mounting: 2-screw Inserts
Antenna Polarity: 360° (any orientation for proper operation)
Power Method: 12V DC or 110V AC (12-24V DC Input
LAN Ports: 5x 100Mbps Fast Ethernet
USB Port: 1x USB 2.0
Dimensions: 4.5" x 3.5" x 1"
Weight: 0.31 lbs.
Max Power Consumption: 8W
Operating Temperature: -30° to 70° C
SkyPro Router
Core Indoor Router
30FT Ethernet Cable
110 Vac Power Supply
12 Volt Wire Harness
Installation Kit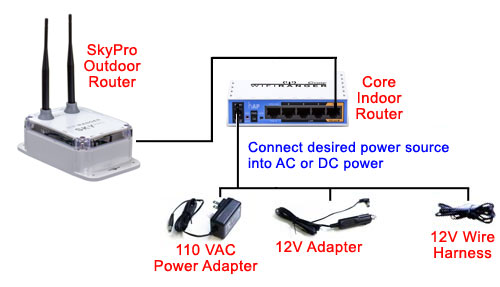 Back to Top
Mobile Wifi Solutions
Back to Training
Highly Recommended