Anti-Slip Grit Tape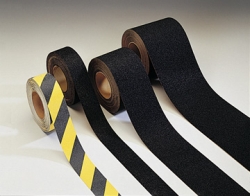 Click Image to enlarge
Helps prevent slips and falls with its anti-slip surface and adhesive back.
This tape can be used on :
ramps
freight elevators
loading docks
stairwells
ladders
catwalks
or heavy equipment.
Anti-Slip Grit Tape has an abrasive surface that is water, oil, grease, and wear resistant. The tape also features a permanent pressure sensitive adhesive backing and can be applied to any clean, dry, smooth surface. Meets OSHA 29 CFR 1910.24 and 1910.26.
Available in 60' long rolls of black
Product Code
Description
Pricing
Quantity
Order Now!
4378/603-RT
6" x 60' All Black Anti-Slip Grit Tape Roll
4377/602-RT
4" x 60'All Black Anti-Slip Grit Tape Roll
4376/601-RT
2" x 60'All Black Anti-Slip Grit Tape Roll
Highly Recommended