Annual Vehicle Inspection Label Vinyl with Punch Boxes 1347/55-SN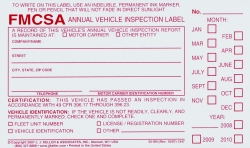 1347/55-SN
View PDF Sample
DriverLogBooks offer Annual Vehicle Inspection Label Vinyl with Punch Boxes 55-SN for you to meet DOT's annual inspection requirements, including complying with §396.17(c)(2).
Add label number to match vehicle inspection report from for convenient recordkeepping. Punch boxes for month and year. Permanent adhesive. Use indelible permanent ink that will not fade in direct sunlight for this label.
Specifications
Size: 6" W x 3 1/2" L
Vinyl with Punch Boxes
Pricing and Ordering
50-99
100-249
250-499
500-999
1,000-2,499
2,500 or more
Quantity
Order Now!
$ 1.13 each
$ 0.92 each
$ 0.84 each
$ 0.65 each
$ 0.43 each
Contact Us
More Labels Here | More Tags Here | More Charts Here | More Posters Here

Back to Top
Vehicle Inspection Tags, Labels, Charts, Posters
Vehicle Inspection and Maintenance Page
Highly Recommended
Track Your Order
Convenience Goods
Must-Haves!