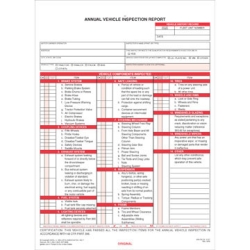 PLEASE NOTE: JJ Keller Product ID Numbers have changed.
Annual Vehicle Inspection Report
Meet DOT's annual vehicle inspection requirements under §396.21
Also includes Minimum Periodic Inspection Standards (Part 396, Appendix G to Subchapter B) on the back of the forms to reinforce the vehicle inspection requirements
Durable 100 lb. manila ply helps preserve the report
Snap-out format
2 plies
Carbonless
Measures 8-1/2" W x 11-3/4" L
Product Code
100-249
250-499
500 or more
For more price info
Quantity
Order Now!
3127/400-FS-C2
$ 0.52 each
$ 0.46 each
$ 0.43 each
Contact Us
Also Available...
Highly Recommended