NOTE: We are having a massive price update. The cart is already updated but the website update is still going on. Thank you for your cooperation.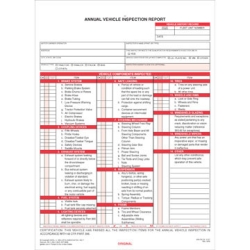 Annual Vehicle Inspection Report
Meet DOT's annual vehicle inspection requirements under §396.21
Also includes Minimum Periodic Inspection Standards (Part 396, Appendix G to Subchapter B) on the back of the forms to reinforce the vehicle inspection requirements
Durable 100 lb. manila ply helps preserve the report
Snap-out format
2 plies
Carbonless
Measures 8-1/2" W x 11-3/4" L
Product Code
100-249
250-499
500 or more
For more price info
Quantity
Order Now!
3127/400-FS-C2
$ 0.55 each
$ 0.49 each
$ 0.46 each
Contact Us
Also Available...
Highly Recommended