Simplified DVIR Vertical Format Format 3-Ply Snap-out Carbon 2074/153-FS-F3
Satisfies DOT Vehicle Inspection regulations - 396.11 and 396.13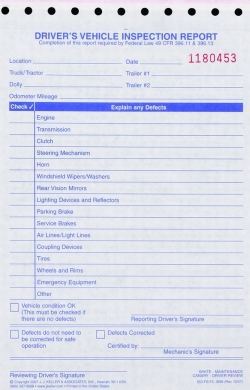 2074/153-FS-F3
View PDF Sample
This Simplified DVIR Vertical Format Format 3-Ply Snap-out Carbon 2074/153-FS-F3 is a simplified version of the detailed driver vehicle inspection report. It has 15 inspection areas and room to record any defects.
This Simplified DVIR is a 3-ply snap-out vertical format.
Specifications
3-Ply
Snap-out Format
with Carbon
Vertical Format
Overall Size: 5 1/2" W x 7 3/4" L detached
Features
15 inspection areas
room to record any defects
Pricing and Ordering
300-199
200-1,999
2,000-11,999
12,000 or more
For more price info
Quantity
Order Now!
$ 0.28 each
$ 0.25 each
$ 0.22 each
$ 0.21 each
Contact Us

Back to Top
Simplified Driver Vehicle Inspection Reports
Vehicle Inspection and Maintenance Page
Highly Recommended
Track Your Order
Convenience Goods
Must-Haves!