Simplified DVIR Vertical Format Bilingual 2-Ply Book Format Carbonless 9528/140-B
Satisfies DOT Vehicle Inspection regulations - 396.11 and 396.13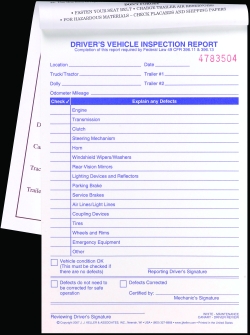 9528/140-B
View PDF Sample
Simplified DVIR Vertical Format Bilingual 2-Ply Book Format Carbonless 9528/140-B is a simplified version of the detailed driver vehicle inspection report. It has 15 inspection areas and room to record any defects.
This carbonless Simplified DVIR is a 2-ply vertical book format. It includes key regulations printed on inside front cover to remind drivers of DOT-required procedures.
Specifications
Text printed in English and Spanish
Book format, 31 sets per book
2 plies
Carbonless
Measures 5-1/2" x 8-1/2" detached
Features
15 inspection areas
room to record any defects
Pricing and Ordering
20-99
100-199
200-299
300-499
500-999
1,000 or more
For more price info
Quantity
Order Now!
$ 4.19 each
$ 3.65 each
$ 3.45 each
$ 3.36 each
$ 3.05 each
$ 2.62 each
Contact us

Back to Top
Simplified Driver Vehicle Inspection Reports
Vehicle Inspection and Maintenance Page
Highly Recommended
Track Your Order
Convenience Goods
Must-Haves!