Trailer Preventive Maintenance Inspection Instruction Book 27762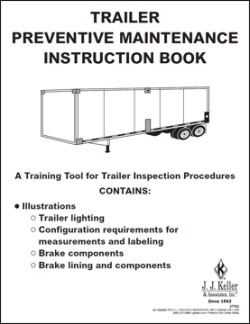 27762
Helps make sure proper preventive maintenance inspections take place.
Specifications
Easy to use and reference when completing the Trailer Preventive Maintenance Inspection Report
Booklet includes preventive maintenance instructions for the 6 main vehicle components or systems:

Area 600 Interior Inspection
Area 100 Walkaround Exterior Inspection
Area 200 Under Vehicle Inspection
Area 200A Foundation Brake Inspection
Area 200B Suspension System Inspection
Area 300 Wheel and Tire Inspection
Area 400 Roll Up Door Inspection
Area 500 Swing Door Inspection

16 pages
Measures 8-1/8" x 10-3/4"
Pricing and Ordering
6-11
12-23
24 or more
For more price info
Quantity
Order Now!
$ 9.98 each
$ 7.71 each
$ 6.68 each
Contact Us

Back to Top
Trailer Preventive Maintenance
Vehicle Inspection and Maintenance Page
Highly Recommended
Track Your Order
Convenience Goods
Must-Haves!