New York School Bus & Motor Coach Driver's Vehicle Inspection Report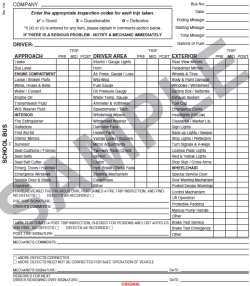 151-B
Meets the requirements of Section 721.2(B) of the Official Compilation of Codes, Rules, and Regulations of the State of New York
This form will help you meet the requirements of Section 721.2(B) of the Official Compilation of Codes, Rules, and Regulations of the State of New York.
Includes inspection items with pre-, mid-, and post-trip categories, mileage reporting, and signature areas for the driver and mechanic.
Form includes check-off boxes for pedestrian mirrors, emergency doors, stop sign/cross arms, and more.
Two sizes available. Both sizes are carbonless book format with 31 sets of 2-ply forms per book.
Large Book Format 8 1/2"W x 11 3/4"L

Small Book Format 8 1/2"W x 7 3/4"L
Make sure your drivers have the supplies they need - order today!
Pricing and Ordering
Product Code
# of Plies
Carbon
Format
Size
Pricing
Quantity
Order Now!
New York School Bus DVIR Small Book Format 5713/151-B | PDF Sample
2
No
Book (Small)
8 1/2"W x 7 3/4"L
New York Motor Coach DVIR Large Book Format 5714/152-B | PDF Sample
2
No
Book (Large)
8 1/2"W x 11 3/4"L
New York Motor Coach DVIR Small Book Format 5715/153-B | PDF Sample

2
No
Book (Small)
8 1/2"W x 7 3/4"L

Back to Top
Bus/Motorcoach | More Bus/Motor Coach DVIR's here
Highly Recommended