Fall Protection for General Industry - DVD Training - 50535
Available in English and Spanish.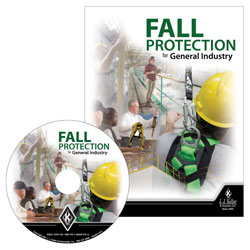 50535
Help you to understand OSHA fall requirements protection under the Walking-Working Surfaces rule and specifically cover the protective measures and potential hazards while working on runways or elevated platform, walls, or near floor, or windows opening.
Features
Understand OSHA fall protection requirements
Fall Protection training program learners will be able to:

Summarize employer requirements to protect workers from fall hazards
Explain how injuries by falling and falling objects occur
Describe ways for eliminating and preventing falls in the workplace
Identify various forms of fall protection and scenarios when each would be appropriate
English & Spanish All in one program
Ready-to-use fall prevention training program
Includes several components
Closed-captioned for the hearing impaired
Basic System Requirements
A 400 Mhz or faster Intel-compatible CPU
A video card w/ AGP architecture and at least 4 MB of onboard RAM
At least 128 MB of system RAM (Windows 2000, XP and Vista users - 256 MB or more is recommended)
Windows 98 SE, Windows 2000, Windows Millennium Edition, Windows XP or Windows Vista (most software DVD decoders have either reduced function or no support under Windows 95 and Windows NT 4.0)
The latest version of Microsoft DirectX
A DVD-ROM drive (DVD discs cannot be read by CD-ROM equipment)
DVD Main Menu
Play Program - Plays entire main program (15 minutes)
Chapter Selections (access to chapters by topic)

Introduction
Potential Hazards

Intro to Potential Hazards
Unsafe Environment
Unsafe Equipment
Unsafe Behavior
Employer Requirements

Types of Fall Protection

What's New with Fall Protection
Guardrail Systems
Covers
Ladder Safety Systems
Safety Net Systems
Designated Areas
Personal Protective Equipment

Using Fall Protection Safely

Choosing the Right Fall Protection
Training
Inspecting Fall Protection
Using Fall Protection
Storing Fall Protection
Performing Maintenance

Conclusion

Bonus Materials:

Message to Management Video (6 minutes)
Quiz - 10 interactive questions; offers correct/incorrect remediation to reinforce effectiveness of training.
Back to Top
Employee Safety Training
Back to Training
Highly Recommended