Fire Prevention Response: What Employees Need to Know 48654 / 935DVD
English & Spanish available all in one program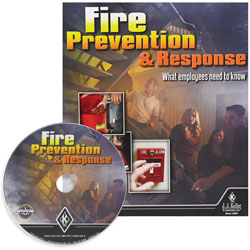 48654 / 935DVD
Can be used as part of an OSHA-required fire sfety training program (OSHA standards 1910 Parts 38, 39, and 157). Covers key aspects of workplace fire safety training.
Features
Enhanced with the EyeCue® Visual Learning System
Covers a wide variety of fire safety topics:

Workplace fire prevention methods, like proper housekeeping and safe material handling procedures
Characteristics of fire, and the fire tetrahedron
Evacuations procedures
Spotting and eliminating fire hazards
Fire safety at home
Basics of fire extinguisher use, including demonstrations

2015 Bronze Telly Award Winner
Ready-to-use training program includes several components
Closed-captioned for the hearing impaired (English only)
(1) 25-minute video enhanced with the EyeCue® Visual Learning System - Provides an overview of workplace fire safety, including information on the characteristics of fire, proper housekeeping, fire prevention methods within the employees' control, chemical safety, essential evacuation procedures, hot work safety and fire safety in the home.
(1) Trainer Guide - Supplies background and regulatory information on the topic. It includes a reprint of the Employee Handbook, activities to help trainers address multiple learning styles and levels of employee experience or involvement, and adds related training discussion topics.
(11) Employee Handbooks - Provides employees with an easy-to-use, post-training resource. It follows the information in the DVD video.
(2) Awareness Posters - A full-color, photo-based reminder of the key tenets of workplace fire safety to hang in a high-traffic area at your company.
(1) Trainer Tools CD - Includes a host of materials use to enhance and add a variety to training: additional quiz questions and an answer key, PowerPoint® presentation, a sample emergency action plan, photo-based images, a certificate of completion that can be personalized with the employee's name, learning activities and a training log to track attendance.
(2) EyeCue® Trainer Guides - Topic-specific guide explains how to effectively use and incorporate the EyeCue® Visual Learning System, 20 pages.
(2) EyeCue® Posters - Provides a daily reminder of the training lessons related to each EyeCue® tag. 17" x 22", non-laminated, folded. (Laminated Version)
(1) EyeCue® Starter Pack - Set of topic-specific tags

(10) Magnets – Fire Safety Fire Hazard Reminder, 3" X 4"
(10) Stickers – Fire Safety Electrical Fire Hazard Reminder, 3" X 4"
(5) Stickers – Fire Safety Housekeeping Reminder, 8" X 9"
(10) Tags – Fire Safety Fire Extinguisher Reminder, 3" X 4"
(5) Floor Labels – Fire Safety Housekeeping Reminder, 8" X 9"
(5) Window Clings – Fire Safety No Smoking Reminder, 4" X 5"
(10) Miniature Zip Ties, 8"
DVD Main Menu
Play Program
Chapter Selections

Introduction
Fire Dangers
The Importance of Training
Fire Prevention Basics
Housekeeping
Hot Work
Chemicals
Flammable Liquids
Compressed and Liquefied Gases
Evacuation Procedures
Fire Safety at Home
Conclusion

Fire Extinguisher Training

Fire Extinguisher Essentials (running time: 9 minutes)

When to use a fire extinguisher (on small, incipient stage fires)
The five classes of fires and fire extinguisher types
Typical parts of a fire extinguisher
Demonstration of a fire extinguisher using the PASS technique
How long fire extinguishers typically last (typically 10 to 30 seconds)

Fire Extinguisher Demonstrations (running time: 8 minutes)

Shows step-by-step demonstrations of two commonly used fire extinguisher types, CO2 and ABC dry chemical

Bonus Materials

Quiz (10 questions with video remediation)
Note to Trainers (English only) (running time: 5 minutes)
Back to Top
Workplace Safety
Back to Training
Highly Recommended