Food Industry Security Awareness 11094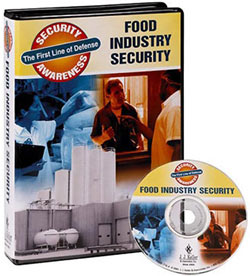 11094
Allows you to have an immediate impact on plant security with very little time or resources while helping maximize the effectiveness of your overall security investment.
Reinforces the importance of food security awareness in all phases of product handling, from receiving ingredients to processing and shipping.
Covers the following:
Consistency with key USDA and FDA recommendations
Examples of everyday scenarios, from product handling to shipping
Interviews with industry leaders in food security, including AIB representatives
DVD-based training helps every employee hear a consistent message about security so no critical information is overlooked
Ready-to-use training program includes several components.
Closed-captioned for the hearing impaired.
Highly Recommended