Workplace Safety 101: A Guide for New Employees 14796 & 14797
Available in English and Spanish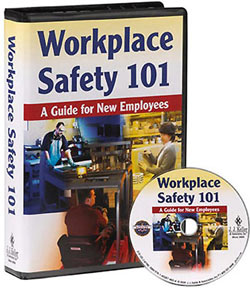 14796 & 14797
Gives new hires the tools to develop solid safety habits and hazard perception skills from the start and Allows you to deliver effective and consistent safety orientation training, helping reduce costly incidents, injuries, damages, and turnover, while boosting productivity and morale With Workplace Safety 101: A Guide for New Employees - DVD Training.
Includes updated info on OSHA's revised Hazard Communication Standard with GHS provisions.
Covers a broad set of key workplace safety topics, including:
First Aid
Lockout/Tagout
Lifting Techniques
Workplace Violence
Hazard Communication
Slips, Trips, & Falls
Bloodborne Pathogens
Personal Protective Equipment (PPE)
And many more
Closed-captioned for the hearing impaired.
Ready-to-use training program includes several components
Highly Recommended