Workplace Safety Basics - DVD Training - 49772
Available in English and Spanish.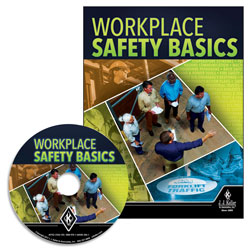 49772
Designed to provide learners an overview of a number of workplace safety topics and tips. It helps to reduce costly incidents, damages, injuries and turnover. The training covers various engineering controls and an introduction to generic safe work practices.
Features
Overview of a Number of Workplace Safety Topics and Safety Tips
Allows You To Deliver Effective and Consistent Safety Orientation Training
Helping Reduce Costly Incidents, Injuries, Damages, and Turnover
Boost Productivity and Morale
Introduction To Generic Safe Work Practices
Safe Use of Tools and Equipment
Procedures For What To Do in The Event an Emergency Occurs
Workplace Safety Basics, Learners Will Be Able To:

Identify specific workspace arrangements that help maintain safety in the workplace
Demonstrate safe work practices and procedures that can help protect themselves and others around them
Describe the appropriate actions to take based on their level of authorization in the event of an emergency
Recognize the hazards associated with using tools and equipment and identify safe ways to operate them

All In One English & Spanish Program
Basic System Requirements
A 400 Mhz or faster Intel-compatible CPU
A video card with AGP architecture and at least 4 MB of onboard RAM
At least 128 MB of system RAM (Windows 2000, XP and Vista users - 256 MB or more is recommended)
Windows 98 SE, Windows 2000, Windows Millennium Edition, Windows XP or Windows Vista (most software DVD decoders have either reduced function or no support under Windows 95 and Windows NT 4.0)
The latest version of Microsoft DirectX
DVD-ROM drive
DVD Main Menu
Play Program - Plays entire main program
Chapter Selections - Allows easy access to specific sub-topics

Introduction
Work Practices

Wellness
Back Safety
Slips, Trips, & Falls
Personal Protective Equipment

Work Environment

Hazard Communication
Safety Signs & Tags
Electrical Safety
Fire Safety
Confined Spaces
Hot Work
Temperature Extremes

Safe Use of Equipment

Hand & Power Tools
Ladders
Machinery
Powered Industrial Trucks
Lockout/Tagout

In Case of an Emergency

Emergency Action Plans
First Aid/Emergency Response
Bloodborne Pathogens
HAZWOPER
Workplace Violence
Medical Records

Conclusion

Bonus Material

Note to Trainer Video – Approximately 4 minutes. Available in English only.
Quiz – 10 interactive questions. Offers correct/incorrect remediation to reinforce effectiveness of training. Approximately 10 minutes. Available in Spanish & English.
Back to Top
Employee Safety Training
Back to Training
Highly Recommended