Nylon Oversize Log Book Holder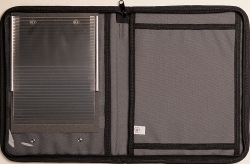 These oversize log book holders are made from durable nylon materials. They feature a zipper opening with a log pocket on the right side, two snaps for flip-file on the left side. Available with or without 20-unit flip-file insert.
Overall size is 10 1/4" W x 13 1/2" L.
Available in black only.
Product Code
Color
Size
Best For (Log Size)
Also Used For (Log Size)
Pricing
Quantity
Order Now!
10-RNY-BK * Not Available
Black
10 1/4"W x 13 1/2"L
8 1/2"W x 11"L
8 1/2"W x 5 1/2"L,
8 1/4"W x 8 1/2"L
567/11-RNY-BK **
Black
10 1/4"W x 13 1/2"L
8 1/2"W x 11"L
8 1/2"W x 5 1/2"L,
8 1/4"W x 8 1/2"L
* Without flip-file; ** With flip-file insert

Back to Top
Go Back to Log Book Covers and Holders
Go To Log Binders, Covers, Holders Main Page
Log Books Main Page
Highly Recommended