Automotive U-Joint Service Kit - 20503
For Automotive (Class 1,2,3)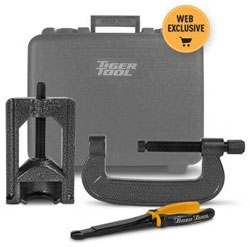 20503
Designed to service U-joints on light to intermediate sized trucks, automobile and farm machinery with bearing cups from 1.0" to 1.25". Eliminates dangerous vice, hammering and socket methods and prevent the damages of yokes, driveshaft, bearing cups or joints.
10202 Bearing Cup Installer
10105 Universal Joint Puller
70300 Hotchkiss Snap Ring Pliers
Note: Do not use over 1⁄2" impact wrench—doing so will void warranty.
U-Joint Puller: 10105
Remove all bolts from bearing cups.
Slip the U-Joint Puller over the yoke of the driveline.
Turn the tool's forcing screw clockwise with either an air or hand wrench. (Note: reverse thread)
When bearing cup becomes free, repeat process with remaining three bearing cups.
Preventative Maintenance:
Keep forcing screw clean and lubricated at all times. Failure to maintain the spherical thrust washer, located inside the glove will result in excessive wear to the part. Check and lubricate this part (lubricate load bearing surface in glove, under cap, on both sides of spherical washer) periodically and replace as necessary. Contact your Dealer or Tiger Tool for replacement washers. (We recommend SAE 30 lube for the threads and EP with molly grease).
Bearing Cup Installer: 10202
Place new bearing cup against magnet side of installer.
Insert second bearing cup into driveline.
Align installer over both bearing cups.
Turn forcing screw by hand or with impact wrench.
Both bearing cups will be pressed in at the same time.
Repeat process on two remaining bearing cups.
Tiger Tool International Incorporated ("Tiger Tool") warrants to its customers that cast portions of its tools are free from defects in workmanship and materials for as long as the original purchaser owns the tool.
Tiger Tool warrants to its customers that threaded areas, bolts and machined components in or of its tools will not fail due to defects in workmanship and materials for a warranty period of two years from the date of original purchase.
Tiger Tool warrants to its customers that hydraulic components will not fail due to defects in workmanship and materials for a warranty period of one year from the date of original purchase.
For warranty service a customer must return the tool freight prepaid along with original proof of purchase to TIGER TOOL INTERNATIONAL INCORPORATED.
When a customer seeks warranty service with respect to a tool and that tool is covered by a TIGER TOOL warranty, TIGER TOOL may at its option repair the tool, replace the tool or refund the purchase price for the tool.
New unused product that is returned to tiger tool as a result of the customers error or due to inventory adjustment will be subject to a twenty percent (20%) restock/rework fee with authorized RGA number otherwise a 30% restocking fee will apply.
Highly Recommended