Jost 5th Wheel Bracket Pin Puller - 10705
For Heavy Duty (Class 7, 8)

Discontinued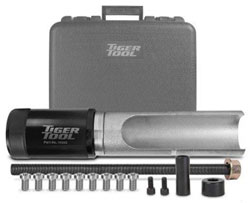 10705
Remove jost 5th wheel bracket pins fast and effectively. This 5th wheel bracket pin puller has 20 tons of pulling power with black oxide finished coating to resists corrosion.
Requires 10,000 PSI Hydraulic Pump
Available as an adapter kit (Part No. 15060) to the 15000 Pin & Bushing Kit.
Pulling Power: 20 Tons
Components are Made From High-Grade Metals
Prevent Damages to Nearby Components.
Durable
Corrosion Resistant
Black Oxide Finished
Note: Use replacement parts and accessories provided by tiger tool only. All replacement parts and accessories are available. Keep hydraulic coupler protected when not in use. Dust caps should be used on couplers when not in use to avoid contaminants from entering the hydraulic cylinder and power source. This practice will help to extend the life of this product and ensure continued consistent operation.
Begin by removing the retainer bolts. Use a tap to clean the threaded area inside the bracket pin.
Bolt the hammer adapter into the center threaded hole of the bracket pin and strike it to shock it loose from the 5th wheel. Clean any rust, paint, or scale, from the head of he bracket pin to create a clean metal surface for welding.
There are two weld-on adapter sizes included in the kit(1/2", 5⁄8"). Each adapter has a centering nub on the mating side to ensure proper alignment during the welding process. Weld the corresponding adapter to the bracket pin and then thread the coupler adapter onto the weld-on adapter. Next, thread the draw bar into the coupler adapter.
Slide the aluminum spacer tube and cylinder assembly over the threaded draw bar and install the washer and hex nut. Apply hydraulic pressure ensuring hands and body are not in line with the cylinder and threaded draw bar.
Once the cylinder has reached the end of its stroke (2") release hydraulic pressure allowing the piston to retract. Then spin up the hex nut and apply hydraulic pressure once again. Repeat as necessary until pin is removed.
Tiger Tool International Incorporated ("Tiger Tool") warrants to its customers that cast portions of its tools are free from defects in workmanship and materials for as long as the original purchaser owns the tool.
Tiger Tool warrants to its customers that threaded areas, bolts and machined components in or of its tools will not fail due to defects in workmanship and materials for a warranty period of two years from the date of original purchase.
Tiger Tool warrants to its customers that hydraulic components will not fail due to defects in workmanship and materials for a warranty period of one year from the date of original purchase.
For warranty service a customer must return the tool freight prepaid along with original proof of purchase to TIGER TOOL INTERNATIONAL INCORPORATED.
When a customer seeks warranty service with respect to a tool and that tool is covered by a TIGER TOOL warranty, TIGER TOOL may at its option repair the tool, replace the tool or refund the purchase price for the tool.
New unused product that is returned to tiger tool as a result of the customers error or due to inventory adjustment will be subject to a twenty percent (20%) restock/rework fee with authorized RGA number otherwise a 30% restocking fee will apply.
Highly Recommended