Compliance Audits Manual 1289/50-M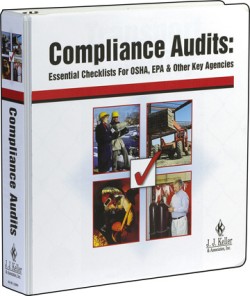 1289/50-M
Catch potential OSHA and EPA violations before the government does.
This handy manual gives you the information you need to find and correct safety and regulatory problems at your facility. It could save you thousands of dollars in fines!
Set up like a reference manual and workbook in one, J. J. Keller's Compliance Audits Manual gives you easy-to-follow guidelines that will help you know what to look for and where.
You'll get audit checklists for 63 key workplace areas ... and recordkeeping requirements for more than 50 OSHA and EPA regulations.
Loose-leaf, 3-ring bound, 495 pages.
ISBN 1-877798-18-5
| Sample Pages | PDF* | File Sizes |
| --- | --- | --- |
| Table of Contents | | 57KB |
| How to Use | | 41KB |
| Checklists | | 25KB |
| Checklists for Work Areas | | 25KB |
| Checklists for Work Areas TOC | | 31KB |
Note: You must have Adobe Acrobat Reader installed to view the PDF sample pages. If you are not able to view the sample pages, click here to download Adobe Acrobat Reader from Adobe website for FREE.
OSHA Guides, Handbooks and Manuals
Highly Recommended