Master Lock Gate Valve Lockout Set 14041 / 605-RL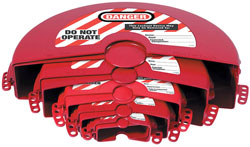 14041 / 605-RL
Master lock® gate valve lockout surrounds the valve handle to protect against any accidentaly opening. Body is constructed from lightweight tough dielectric xenoy thermoplastic that can withstand chemicals and can operate from -50 to 350 degrees F temperature.
Helps you comply with OSHA's lockout/tagout regulation 29 CFR 1910.147
Features
Surrounds the valve operation handle
Protect against accidental opening
Resist from -50 to 350 degrees F chemicals and operating temperatures
Outward/Inward rotating design
Can be installed in confined spaces
Features multiple holes for locks or hasps.
Virtually works in all valve installations.
Materials: tough, lightweight dielectric Xenoy® Thermoplastic
Color: Red
Pricing and Ordering
1-5
6-23
24-71
72 or more
For more price info
Quantity
Order Now!
$ 140.57 each
$ 136.35 each
$ 132.26 each
$ 128.29 each
Contact Us
Includes nested gate valve lockouts that fit to valve handles
1"-3"
2"-5"
4"-6.5"
6"-10"
8"-13"
More Stopout / Lockout
Back to Top
Back to Safety and Security
Highly Recommended