Master Lock® Padlocks
4 sizes ... 4 ways to secure your equipment.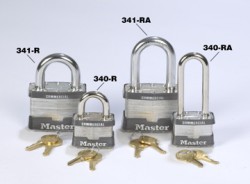 Master Lock® Padlocks
These Master Lock® padlocks are constructed with laminated steel bodies for superior strength, dual locking levers for extra pry resistance, and proprietary rust-proofing for longer life. Resilient anti-mar bumpers protect the top and bottom edge of each padlock. Two brass keys are included with each padlock.
15/16" and 2-1/2" shackle-length locks feature the following:
4-pin cylinder to help prevent picking
1-3/4" wide body
3/4" horizontal shackle clearance
5/16" diameter hardened steel shackle for extra cut resistance
1-1/4" and 2" shackle-length padlocks feature the following:
5-pin cylinder to help prevent picking
2-1/2" wide body
1-3/16" horizontal shackle clearance
7/16" diameter hardened boron alloy shackle for superior cut resistance
Also available in Custom Keyed-alike
Pricing and Ordering
Product Code
Description
Pricing
Quantity
Order Now!
340-R
15/16" Shackle
Out of Stock-No Expected Date
340-R-A
2-1/2" Shackle
Out of Stock-No Expected Date
341-R
1-1/4" Shackle
Out of Stock-No Expected Date
341-R-A
2" Shackle
Out of Stock-No Expected Date
340-R-C
Custom Keyed-Alike
with 15/16" Shackle
Out of Stock-No Expected Date
340-RA-C
Custom Keyed-Alike
with 2-1/2" Shackle
Out of Stock-No Expected Date
5472/341-R-C
Custom Keyed-Alike
with 1-1/4" Shackle
341-RA-C
Custom Keyed-Alike
with 2" Shackle
Out of Stock-No Expected Date

More Locks and Padlocks
Back to Top
Back to Safety and Security
Highly Recommended