Accident Procedures: Driver Training Series 42813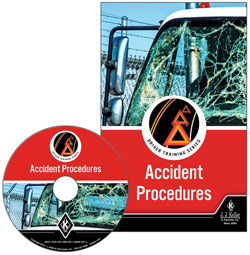 42813
Provides step-by-step procedures for what to do after a crash. Reminds driver that their actions and accurate documentation can prevent damages or injuries.
Features
Provides steps to take following an accident:

Including contacting law enforcement
Proper placement of warning devices
Attending to injured persons

Reminds drivers that their actions and accurate documentation can prevent

Injuries
Damages
Protect drivers and their companies from liability

Closed-captioned for the hearing impaired
Ready-to-use training program includes several components
(1) 20-Minute DVD - Combines engaging video and editing technology with expertise from industry professionals at all levels.
(1) Trainer Guide - Product Code: 45589 (860-H) - Provides information on how to develop, organize, and conduct effective accident procedures training sessions.
(10) Driver Skills Cards - Product Code: 45595 (920-VC) - Recaps the key points from the training program and serves as a reference tool for drivers to use either before or after the training session.
Basic System Requirements
A video card with AGP architecture and at least 4 MB of onboard RAM
A 400 Mhz or faster Intel-compatible CPU
Windows 98 SE, Windows 2000, Windows Millennium Edition, Windows XP or Windows Vista (most software DVD decoders have either reduced function or no support under Windows 95 and Windows NT 4.0)
At least 128 MB of system RAM (Windows 2000, XP and Vista users - 256 MB or more is recommended)
A DVD-ROM drive (DVD discs cannot be read by CD-ROM equipment)
The latest version of Microsoft DirectX
DVD Main Menu
Play Program
Chapter Selections

Introduction
Required Steps

Stop immediately
Set out warning devices
Check for injuries
Contact law enforcement
Document the incident
Notify your company

After an Accident
Conclusion
Back to Top
Driving Training
Back to Training
Highly Recommended