City Driving DVD Master Driver Training Program Video Series 14865/918-DVD
Help your drivers prevent accidents and stay safe on the road.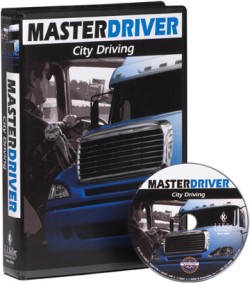 14865/918-DVD
Driving in the city requires an understanding of some of the toughest parts of driving a tractor-trailer: traffic, turning, negotiating intersections, speed & space management, maneuvering in tight spaces, and cargo securement.
City Driving DVD Master Driver Training Program Video Series 14865/918-DVD provides strategies to help drivers successfully navigate hazard-packed city environments.
This program covers critical safety topics in just 18 minutes and keep your drivers' attention with dramatic footage, dynamic graphics, 3-D animation, a hazard perception challenge scenario, and "Road Wise" commentary from seasoned transport pros
This program covers :
Defensive driving in a hazard-rich environment
Safe vehicle maneuvers in high traffic areas
The importance of thorough route planning (taking into consideration known traffic bottlenecks, problematic traffic times and customer delivery times) and the importance vehicle inspections.
Specific driving techniques for safer city driving
And more
Features
DVD Main Menu
Play Program - Plays entire main program.
Chapter Selections (access to chapters by topic)

Hazard Perception Challenge - The video opens with a city driving scenario.
Introduction - Explains why city driving is a training topic that needs to be revisited from time to time, because of the unique hazards it poses to CMV drivers.
City Driving Defined - Discusses that no matter what size, every city is unique and offers up its own set of challenges, and that drivers have to stay in control of the things they can control – themselves and their vehicle.
Getting Ready to Drive - Reviews the critical need to complete a pre-trip vehicle inspection, what should go into planning your route – with an emphasis on asking for good directions ahead of time, and checking cargo securement.
Driving in the City - Discusses congested traffic, pedestrians, the challenges of maintaining a space cushion, tailgating, and the effects of adverse weather.
Common Problem Areas

Railroad Crossings - Covers the safe way to approach and deal with them.
Intersections - Covers how to safely manage passing through them and managing traffic signals.
Turns - Covers the need to safely execute right- and left-hand turns in city environments.
Backing - Covers the need to avoid, when possible, and how to safely execute backing maneuvers in the confines of a city.
Accidents and Breakdowns - Covers how to deal with an accident or breakdown on busy city streets.
Driver and Cargo Security - Covers tips to avoid being a victim of cargo and/or vehicle theft.

Conclusion - Emphasizes that with a basic training topic like city driving, it's what you learn after you know it all that counts...and makes you a safer driver.
Hazard Perception Challenge Answer - The video concludes with a city driving scenario.
Quick Review – Provides a quick way to refresh memory on key points of the program to better aid retention.
Checklist – Increases understanding and retention.
Commentary – Offers additional interviews by industry professionals.
Bonus Hazard Perception Challenges (3) – Sharpens trainees' skills learned in the video.
Quiz – 10 interactive questions; offers correct/incorrect remediation to reinforce effectiveness of training.
Message for Management – Gives introduction to the training program and topic for trainers/management.
A 400 Mhz or faster Intel- compatible CPU
A video card with AGP architecture and at least 4 MB of onboard RAM
At least 128 MB of system RAM (Windows 2000, XP and Vista users - 256 MB or more is recommended)
Windows 98 SE, Windows 2000, Windows Millennium Edition, Windows XP or Windows Vista (most software DVD decoders have either reduced function or no support under Windows 95 and Windows NT 4.0)
The latest version of Microsoft DirectX
A DVD-ROM drive
NOTE: DVD discs cannot be read by CD-ROM equipment
(1) Closed-captioned DVD - (with extra bonus features) the programs combine engaging video and editing technology with expertise from industry professionals at all levels.
(1) Trainer Bulletin - Provides background info on the topic covered and gives a brief overview of the video. Also includes a 5-question quiz and handout exercise for drivers.
(11) Driver Skill Cards - Recap key points from the training program and include receipts for you and the driver to document training.
Back to Top
Master Driver Video Series
Driving
Training Main Page
Highly Recommended