CSA Know the BASICs - DVD Training 27677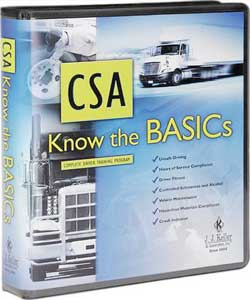 27677
Train drivers on CSA, the 7 BASICs, scoring & evaluation and FMCSA interventions.
Please note: This new training program is based on the December 2012 changes to the CSA Safety Measurement System (SMS) Methodology. Visit JJKeller.com/csa to stay informed on the latest developments.
The CSA Know the BASICs DVD Trainig helps drivers understand what CSA is and what it means to them and their carrier, including FMCSA interventions, severity and time weighting of violations, calculation of BASIC measures ("normalizing" process) and peer comparison within Safety Group Events.

Covers the seven BASICs (Behavior Analysis Safety Improvement Categories) used in the CSA Safety Measurement System (SMS):
Unsafe Driving
Hours of Service (HOS) Compliance
Driver Fitness
Controlled Substances and Alcohol
Vehicle Maintenance
Hazardous Materials (HM) Compliance
Crash Indicator
(1) Video (45 minutes) – The program combines engaging video and editing technology with expertise from industry professionals at all levels.
(1) Trainer Tools CD-ROM (not sold separately) – Includes PowerPoint® presentations that can be used as-is or customized, along with quizzes with answer keys, learning activities, clip art, posters and a training log. The minimum computer system requirements for the Trainer Tools CD-ROM are Office 2000, with Word, and Internet Explorer version 5.5.
(1) Discussion Guide (not sold separately) – Provides additional information and discussion points to engage drivers in the training session.
(10) Driver Handbooks – Product Codes: 27685 (236-H) – Reviews key points and serves as a handy post-training reference.
(1) CSA Overview Poster – Hang in a break room or training area to give drivers a post-training reference.
(1) CSA Special Report – Offers additional background information on CSA and the seven BASICs, including a complete listing of violations and severity weights for each BASIC.
Play Program – Plays entire main program.
Chapter Selections – Allows easy access to specific subtopics for more focused training.

Introduction
The BASICS
Data Collection
Unsafe Driving BASIC
Hours of Service Compliance BASIC
Driver Fitness BASIC
Controlled Substances and Alcohol BASIC
Vehicle Maintenance BASIC
Hazardous Materials Compliance BASIC
Crash Indicator BASIC
More About Your Scores
FMCSA Interventions
Conclusion

Quiz – 10 interactive questions; offers correct/incorrect remediation to reinforce effectiveness of training.
Message for Management Includes commentary on how to effectively use FMCSA's "Safety Management Cycle."
Video Previews – Offer a sneak peek at training programs for related topics.

Roadside Inspections: A Driver's Guide, 2nd Edition
Driver Vehicle Inspections: The Complete Process
Motorcoach Vehicle Inspections
A 400 Mhz or faster Intel-compatible CPU
A video card with AGP architecture and at least 4 MB of onboard RAM
At least 128 MB of system RAM (Windows 2000, XP and Vista users - 256 MB or more is recommended)
Windows 98 SE, Windows 2000, Windows Millennium Edition, Windows XP or Windows Vista (most software DVD decoders have either reduced function or no support under Windows 95 and Windows NT 4.0)
The latest version of Microsoft DirectX
DVD-ROM drive (DVD discs cannot be read by CD-ROM equipment)
Highly Recommended