Comprehensive Safety Analysis (CSA) Special Report 9-GFE-U0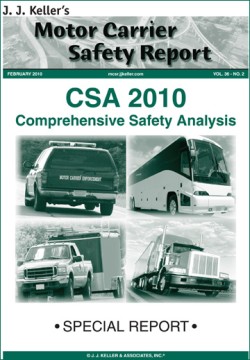 9-GFE-U0
An overview of what you need to know about Comprehensive Safety Analysis (CSA) 2010.
The first step in preparing yourself and your drivers for CSA is to understand what this change means and how it will affect your fleet.
This CSA Special Report is over 100 pages and provides an excellent overview of what you need to know about FMCSA's Comprehensive Safety Analysis enforcement initiative, and presents it in easy-to-understand language so you can properly prepare.
The CSA Special Report covers:
What CSA is
What data will drive the system and how
How CSA is different from SafeStat
CSA's seven Behavioral Analysis Safety Improvement Categories (BASICs), how they're measured, and the severity of related infractions
FMCSA's intervention procedures under CSA
Statistics of the top acute and critical violations from 2008 to reveal how motor carriers would fare under CSA
Agency contacts for further information.
Pricing and Ordering
4-10
11-25
26-50
51 or more
Quantity
Order Now!
$ 15.95 each
$ 13.95 each
$ 10.95 each
$ 8.95 each

Back to Top
Comprehensive Safety Analysis (CSA)
Training Main Page
Highly Recommended