Driver's Guide To The FMCSRs English Version 744/16-ORS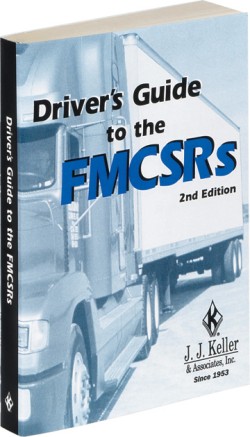 744/16-ORS
FMCSRs are complex; this book makes them easier to understand.
Take your drivers' training to the next level by helping them understand what they can do to meet DOT regulations.
The Driver's Guide To The FMCSRs English Version 744/16-ORS explains the regulations in easy-to-understand terms so drivers will know exactly what's expected of them. They'll get clear, concise compliance guidance for parts 40, 382, 383, 391, 392, and 395-397.
Perfect for drivers in the transportation and construction industries, this handy reference also includes a driver's receipt page that can be kept in each driver's qualification file.
Softbound, 4" x 6", approximately 335 pages.
ISBN 1-57943-367-7 English
ISBN 1-57943-922-5 Spanish
Pricing and Ordering
Product
15-24
25-49
50-99
100-149
150-199
200 or more
For more price info
Quantity
Order Now!
English Version 744/16-ORS
$ 5.29 each
$ 4.59 each
$ 4.29 each
$ 3.69 each
$ 3.19 each
$ 2.79 each
Contact Us
Spanish Version 16-ORS-S
Out of Stock-No Expected Date
$ 4.99 each
$ 4.89 each
$ 4.79 each
$ 4.59 each
$ 4.29 each
$ 4.09 each
Contact Us
Highly Recommended