Denali/Spruce Mid-performance Mobile WiFi Combo
FREE SHIPPING
Available November 4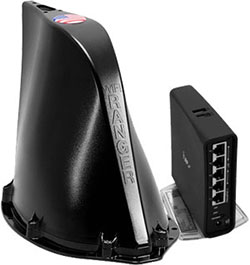 11-11DN-SP-A4-30-B-GN
Connect to a WiFi hotspots up to 1 1/2 miles away with the Outdoor Denali WiFi Router on the otherhand the Indoor Spruce Router provides a secure WiFi network and it has a several LAN port for hardwiring a computer or any devices and a USB Port that you can plug Aircards or MiFi devices.
The Denali router has a 100Mbps LAN port for connecting to the Spruce. It is also equipped with an integrated Category 4 LTE modem which allows you to connect to Cellular internet (requires data plan for Cellular internet), sharing data with all computers and devices connected to the WiFiRanger Denali Pack.
The Denali pack is a mid-performance indoor and outdoor router bundle with 2.4GHz / 5.8GHz WiFi, a USB port for LTE tethering, 1000Mbps LAN ports, and an integrated LTE modem (Category 4).
What You Should Know About Mobile WiFi
Note: Max Range reflects optimal conditions with clear line of sight and powerful access points and is not to be expected as the usual range achieved.
Indoor & Outdoor WiFi Router
Great Addition to Your Truck, RV, & Boat
Downlink: Up to 150Mbps
Uplink: Up to 50Mbps
Integrated Category 4 LTE Modem
Mid-performance Indoor & Outdoor Routers
Specifications of Teton/Poplar Pack:
Supports: AT&T and Millenicom Sim Cards
Band

Outdoor Unit – 2.4GHZ
Indoor Unit – 2.4 & 5.8GHz

Range:

Outdoor Unit – Up To 1.5 Mile Capture, 1/4 Mile Broadcast
Indoor Unit – Up To 750 Ft

Throughput:

WiFi – Up To 1200Mbps
LAN – UP TO 1000Mbps
LTE (if equipped) 150Mbps Down, 50Mbps Up

Standards: 802.11 A/AC/B/G/N
Broadcasts: 3X (PRIVATE, PUBLIC, OEM MGT)
Security: SafeSurf™/Firewall/WPA3
Form Factor:

Outdoor Unit: Shark Fin
Indoor Unit: Compact Modem

SD Card Slot:

Outdoor Unit – NONE
Indoor Unit – MicroSD

Warranty: 1 Year
Lan Ports:

Outdoor Units – 1X LAN
Indoor Unit – 4X LAN, 1X WAN

Dimensions:

Outdoor Unit – 9"T X 7"W X 11"D
Indoor Unit – 4.7"T X 1.25"W X 4.8"W

Teton Temperatures:

Outdoor Unit: -40C ~ +70C
Indoor Unit: -40C ~ +50C

USB Port for Hotspots:

Outdoor Unit: NO (Requires Indoor Router)
Indoor Unit: YES (USB 2.0)

30 ft. Tetherpoint Cable
Power Input / Draw: 12VDC / 31W Maximum
LTE MODEM

Outdoor Unit: Category 4 Modem Optional
Indoor Unit: None

GPS (When LTE is Activated)
Tray Swap Upgrades: Outdoor Unit - Yes (TO Everest)
Includes
Denali Outdoor Router
Spruce Indoor Router
Spruce Stand
30ft TetherPoint Cable
Power Adapter: DC Direct Pigtail with 5amp in-line fuse
User Manual
Sim Card
12vDC/24vDC Power Supply
WiFiRanger Converge 2020 Outdoor Models
WiFiRanger Converge Denali Install
Installing Converge WiFiRanger Denali and Spruce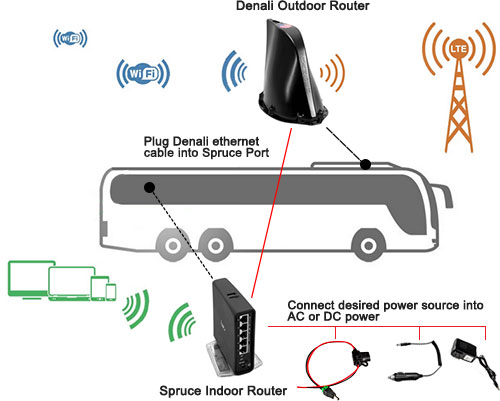 Back to Top
Mobile Wifi Solutions
Back to Training
Highly Recommended