Teton/Poplar Entry Level Mobile WiFi Combo
FREE SHIPPING
Available November 4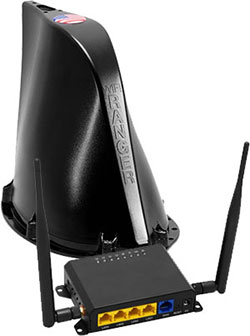 11-11TE-PO-XX-30-B-GN
Bundled together to bring you an entry-level indoor and outdoor mobile WiFi Router with LAN and USB tethering accessibility. This is a perfect pack for those with a mobile lifestyle who desire affordability and versatility.
The teton outdoor router brings in distant wifi hostspots up to 1 mile. The Teton pack is great addition to your Truck, RV, or Boat. You can now stay online wherever you go.
The indoor router has 2.4GHz WiFi reception and broadcast but does not support 5.8GHz WiFi (supported by Denali Pack and Everest Pack). The outdoor routers are weather protected (waterproof, UV-resistant, and resistant to vibration).
What You Should Know About Mobile WiFi
Note: Max Range reflects optimal conditions with clear line of sight and powerful access points and is not to be expected as the usual range achieved.
Vibration Resistant
Entry Level Outdoor & Indoor WiFi Router
Maximum Wireless Coverage, Performance, & Reliability
WiFi Range:

Outdoor Unit: Up to 1 Mile
Indoor Unit: Up to 750ft

Ideal for Mobile Lifestyle
Specifications of Teton/Poplar Pack:
Supports: AT&T and Millenicom Sim Cards
Range:

Outdoor Unit – Up to 1 mile
Indoor Unit – Up to 750 Ft

Band: 2.4GHZ
Throughput:

WiFi – Up To 300Mbps
LAN – UP TO 100Mbps
LTE (if equipped) 150Mbps Down, 50Mbps Up

Standards: 802.11 B/G/N
Broadcasts: 3X (PRIVATE, PUBLIC, OEM MGT) Up to 1/4 Mile Outdoor Omnidirectional Broadcast Range
Security: SafeSurf™/Firewall/WPA3
Form Factor: Shark Fin
Warranty: 1 Year
Lan Ports:

Outdoor Units – 1X LAN
Indoor Unit – 4X LAN, 1X WAN

Teton Temperatures:

Outdoor Unit: -40C ~ +70C
Indoor Unit: 0C ~ +40C

USB Port for Hotspots:
Outdoor Unit: NO – Requires Indoor Router
Indoor Unit: YES – USB 2.0
30 ft. Tetherpoint Cable
Power Input / Draw: 12VDC / 22W Maximum
LTE MODEM

Outdoor Unit – Cat 4 Modem Optional
Indoor Unit – Cat 4 Modem Optional

GPS (When LTE is Activated): Yes
Dimensions:

Outdoor Unit – 9"T X 7"W X 11"D
Indoor Unit – 7"T X 7.5"W X 3.5"W
Includes
Teton Outdoor Router
Poplar Indoor Router
30ft TetherPoint Cable
Power Adapter: DC Direct Pigtail with 5amp in-line fuse
User Manual
12vDC/24vDC Power Supply
WiFiRanger Converge 2020 Outdoor Models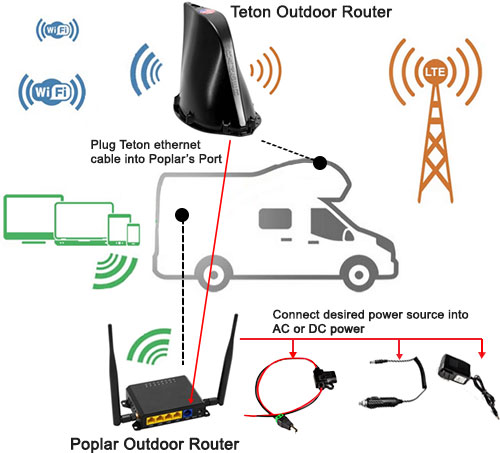 Back to Top
Mobile Wifi Solutions
Back to Training
Highly Recommended