Engel MT35 34 Quarts 12V Fridge/Freezer w/ Digital Control Temp.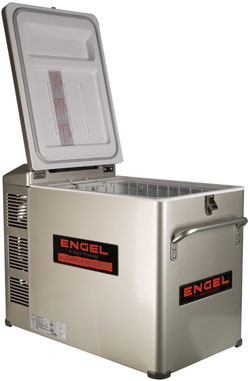 MT35F-PLAT
The Engel MT35 Platinum features a digital control temperature, built in battery monitor and a auto switching capability that eleminates the user to manually switch power.
User Friendly Digital Controls
LED Display Temperature
Capacity: 34 Quarts
Interior Lights
Built-In Battery Monitor
Power Auto Switching
Thermostatically Controlled Fan
Warranty: 3 Years
Truckers for cooling refreshments
Disaster Relief Workers for nutrition and medical supplies
Campers to keep food frozen or beers chilled
Boaters for making ice cubes
Fire/EMS Departments to refreeze cool vests and store on-scene rehab liquids
Reps on the road for frozen product samples
Fishermen for freezing fish or keeping bait frozen
Biologists for blast freezing test samples in the field
As you probably know, Florida has a law that Requires Vendors who ship to Florida Residences, to charge the Dealer the 6 1/2% Florida Sales Tax. Please OK, this addition Florida Tax in "Customer MSG" box, so as not to hold up your order. See Florida Law Rule 12A-1.091(10) Use Tax.
Capacity: Holds 54 - 12 oz. cans (over 2 Full Cases, 34 Qts/32.2 L)
Power Consumption: 0.7 - 2.5 Amps (10 Amp Fuse)
Input Power: 12 Volt, 24 Volt and 120 Volt
Dimension:

Outside: 25.5" L x 14.3" W x 16" H
Inside: 15.4" L x 10.8" W x 12.4" H

Weight: 46.3 lbs.
Gas Type: HFC134-A
External Shell Material: Galvanized Steel
Digital Control View

Inside View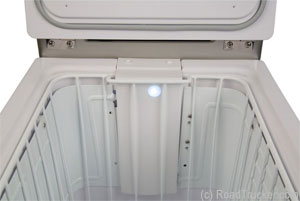 Side View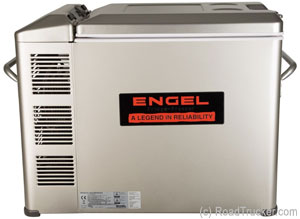 Rear View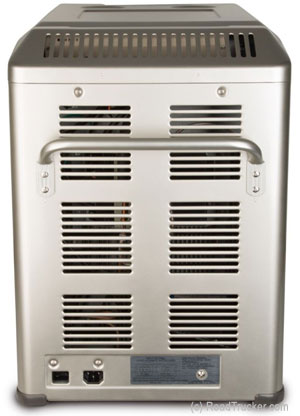 Back to Top
12-Volt Fridge Freezers & Accessories
Back to Truck Products
Highly Recommended