Engel Wireless Digital Thermometer & Clock ENGTHERM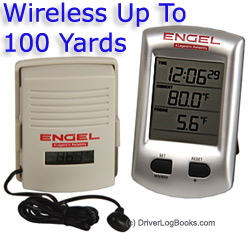 ENGTHERM
Digital Thermometer and Clock from Engel measures not only ambient but also fridge-freezer temperatures in either Celsius or Fahrenheit. The Sending unit remains outside the freezer which protects it and the batteries from freezing temperatures. The ENGTHERM also displays and records minimum and maximum temp. Each unit is coded and once paired will not interfere with other units operating in the same area. You can use multiple units without any crossover. The Receiver displays temperature in degrees F and C, while the Sender displays temperature in degrees Celsius only.
°F or °C Display Options
Measures ambient and fridge temp
Records and Displays Min/Max Temp
Wired remote thermo sensor
Up to 100 Yards range
Displays time
As you probably know, Florida has a law that Requires Vendors who ship to Florida Residences, to charge the Dealer the 6 1/2% Florida Sales Tax. Please OK, this addition Florida Tax in "Customer MSG" box, so as not to hold up your order. See Florida Law Rule 12A-1.091(10) Use Tax.
Fridge (remote sensor) temperature range: -40°C to +65°C
Ambient (receiver unit) temperature range: 0°C to +60°C
Battery life: Approximately 24 months for Receiver/Transmitter
Wireless Range: 300 feet (100 meter) in open area
Thermo Sensor: Wired remote thermo sensor attached to sender unit so the sender and batteries can stay out of the fridge
Transmission frequency: 433MHZ
Temperature accuracy: +/-1.0°C
Displays and records the minimum and maximum temperature
°F / °C: Selectable to degrees Celsius or degrees Fahrenheit
Receiver: 2xAA LR6 alkaline batteries (not included)
Transmitter: 2XAAA LR03 alkaline batteries (not included)
Integrated stand for Receiver
Two hook and loop fasteners with adhesive backing
User Manual

Back to Top
12-Volt Fridge Freezers & Accessories
Back to Truck Products
Highly Recommended