Rand McNally TND Tablet Advanced Truck GPS
Truck GPS and Android based tablet all in one.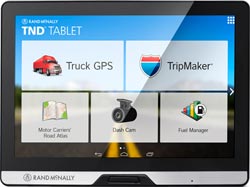 TNDTABLET
Preloaded trucking apps
Live fuel prices
Rand routing
Truck POIs
Exits Quick View
Virtual Dashboard
Team driving support
Address book
Quick Planner
Calendar and notepad
Service and maintenance alerts
Wi-Fi only (802.11a/b/g) (no cellular)
Android 4.4.2 (Kit Kat)
8" IPS LCD touchscreen
16 GB onboard storage
1 GB DDR3 RAM
5 MP rear camera
Battery: 4000 mAh
Micro SD slot
U.S. and Canada map coverage
One-year limited factory warranty
Rand McNally TNDTablet
GPS boost
Vehicle charger
Wall charger
USB cable
Powered magenetic mount with commercial-grade
Quick start guide
Anti-glare screen protector
Return Policy on GPS
For those purchasing a Truck GPS, we will waive the No Return Policy on open electronics, for a Limited Return period of 14 days from purchase or 5 days from delivery with a 15% restocking fee, regardless of the reason for the return. You must make the return request within the time allowed and it must be retuned within the following 7 days. Please Note: No return means no return for refund. Naturally you can return it for repair or replacement for the warranty period.
Limited Return within 14 Days of purchase or 5 days after delivery with a 15% restocking Fee. Note: Scratch or damage the GPS in any way and you bought it. There is a $100 manufacturer's fee for returning a GPS that is anything other than pristine new condition. Note*: The warranty does not include the glass face.

Back to Top
Back to Truck Products
Highly Recommended