Barricade Tape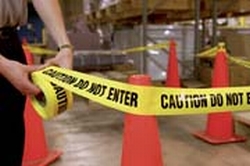 Helps prevent accidents by warning of hazards.
Use this tape to mark off dangerous zones and to alert others to dangerous conditions. This highly visible tape is made of 3 mil polyethylene resin, and can be tied, stapled, or nailed to posts, fences, or metal barricades.
Each roll is 3" W x 1000' L.
All tape is black ink on yellow except for the "Danger" tape which is black ink on red.
Pricing and Ordering
Product
6-11
12-23
24 or more
Quantity
Order Now!
Caution Barricade Tape 630-BT
$ 12.13 each
$ 10.78 each
$ 9.70 each
Danger Barricade Tape 633-BT
$ 12.13 each
$ 10.78 each
$ 9.70 each
Caution Don Not Enter Barricade Tape 4614/636-BT
$ 16.04 each
$ 13.59 each
$ 11.24 each
Highly Recommended