Railcar Conspicuity Tape - Strips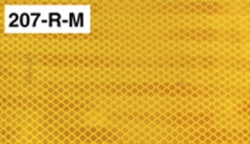 207-R-M
This tape meets or exceeds FRA-224 specifications regarding Reflectorization of Rail Freight Rolling Stock
Railcar Conspicuity Tape Strips are self-adhesive and measure 4" x 18". Eighteen strips are enough to complete most single rail car configurations. This tape meets or exceeds FRA-224 specifications regarding Reflectorization of Rail Freight Rolling Stock.
Avery Dennison Conspicuity Tape Yellow V9700-RR Low Temp Rail - Features a low temperature of 0 degrees F for application and a service temperature of -10 to 135 degrees F.
3M Conspicuity Tape Yellow 983-RR Rail - The minimum application temperature is 35 degrees F.
Pricing and Ordering
Product
1-4
5-9
10 or more
Quantity
Order Now!
Avery Dennison 18-Pack Railcar Conspicuity Tape - Strips 212-R-A


Out of Stock-No Expected Date

$ 58.22 each
$ 43.68 each
$ 37.42 each
100-Pack 3M Conspicuity Railcar Conspicuity Tape - Strips 207-R-M
$ 58.22 each
$ 43.68 each
$ 37.42 each
Each 18-Pack package comes with an information card that shows the general layout for the tape on specific cars, as well as info about the FRA and the ruling regarding conspicuity tape. Click on the PDF images below to preview this information card.
Highly Recommended