Vehicle Accident Report Kit With Camera In Pouch - English 5754/675-R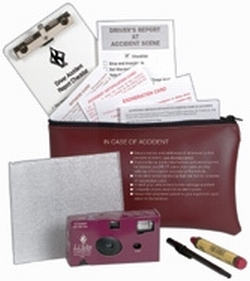 5754/675-R
This accident kit comes in a sturdy, vinyl zippered pouch that keeps kit components protected and organized. Suggested steps for handling an accident are imprinted in white on the outside of the burgundy-colored pouch for quick reference.
These accident packages come with a 15-exposure, disposable camera to help drivers "document" the accident. To help protect film from being damaged by heat when sitting inside a hot truck or construction equipment all day, the camera is packaged inside a special bag that insulates against temperatures up to 165 degrees Fahrenheit.
Pricing and Ordering
3-9
10-24
25-49
50-99
100-499
500 or more
For more price info
Quantity
Order Now!
$ 74.73 each
$ 62.92 each
$ 54.96 each
$ 48.91 each
$ 45.55 each
$ 42.62 each
Contact Us
Avail this package without Pouch
Camera is also available separately.
This package contains the following ...
(1) 10-1/2" x 6-1/2" Vinyl Pouch (burgundy with white imprint)
(1) 4-1/2" x 9-1/2" White Clipboard (with black imprint)
(1)Single-Use 35mm Film Camera: 35mm,400 ISO color film,15 exposures , Built-in flash, Measures 4-1/2" x 2-1/4" x 1",English/Spanish use instructions printed on camera jacket,Comes in an insulated wrapper to help protect the camera from damage and film from extreme temperatures
(1) Word-For-Word Reprint of DOT §382.303 Post-Accident Testing Regulations
(1) 4-1/2" Yellow Tire Marker
(1) Driver's Report At Accident Scene Form
(1) Witness Card
(1) Accident Notification Card
(1) Exoneration Card
(1) Pen (black, medium-point)
Highly Recommended