Forklift Training Video Book
English & Spanish All in One Program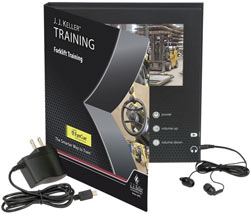 52457
Helps you meet OSHA forklift training requirements while keeping both operators and pedestrians around forklifts safe. Enhanced with EyeCue Visual Learning System.
This video books is helpful for new or refresher forklift safety training in the event of an incident or near-miss, poor evaluation, or changes in the workplace or type of forklift used.
English & Spanish All in One Program
32-Minute Video Program
Fulfil the Classroom and Practical OSHA Forklift Training Requirements of 29 CFR 1910.178(l)
After completing the program, forklift operators will be able to identify the different kinds and their basic controls, discuss the center of gravity and stability triangle concepts, explain what to look for when performing a pre-use inspection,discuss how to park, charge, refuel and perform maintenance or modifications.
Specifications
Size: 8" x 9" x .5" hard cover book
Screen Size: 7" LCD Screen
Language: English & Spanish
Battery Type: 3000 mAh rechargeable lithium ion battery
Battery Life: Approximately 5 hours of continuous playback
Charging Port: Mini USB
Format: Video Training Book
Copyright Date: 2018
ISBN: 978-1-68008-771-0
What's Included
(1) Video Training Book containing a 32-minute program video - Combines engaging video and editing technology with expertise from industry professionals at all levels. Divided into four training modules, plus four bonus videos:

Forklift Basics

Kinds of Forklifts
Forklifts vs. Automobiles
Keeping a Forklift Balanced
Forklift Controls

Forklift Inspections
Safe Operating Procedures

Picking up a Load
Travelling with a Load
Negotiating Hazards
Placing a Load
Parking a Forklift

Maintaining Your Forklift

Changing Cylinders & Refuelling
Charging/Changing Batteries
Making Modifications
Performing Maintenance

Bonus Videos

Specialized Units & Attachments (8 mins)
Non-Operator Safety (7 mins)
Refresher (14 mins)
Message for Management video (4 mins) - English only

(6) Employee Handbooks - 5 English (Product Code: 52467) and 1 Spanish (Product Code: 52468) - Provide a portable, easy-to-understand reference to be used during and after training. Review key points and includes quizzes to check employees' understanding of the material.
(1) Training Log
(1) Quiz Answer Key
(1) Earbud Set
(1) AC Adapter
Highly Recommended